So, my favorite old gamemaker games are Vertigo 2 by jakex; Jetz Fusion + Rampage 4 and Infection by Shawn64 and some of Kimberly Kubus's games.
I remember playing Shawn's games when i had no internet (somewhere around 2006), i found them on a cd i bought in a shop.
Do you remember any cool old games from 2000s, made on gamemaker?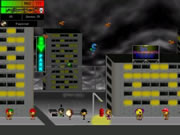 Jetz fusion screenshot. Ah, good ol' days!