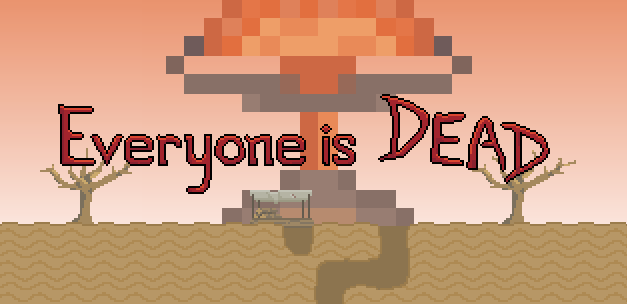 Everyone is Dead
By Aviox
​
Download
Final Version
Description
Can you help a settlement survive in this apocalyptic world? See how long you can make it until
Everyone is DEAD
.
Click to chop down trees, dig holes, and build shelter to try to survive!
(issue general commands and the closest idle dweller will get to work!)

Ladder -
costs
3 wood
Shelter -
costs
20 wood
Screenshots
(see devlogs for additional in-progress screens)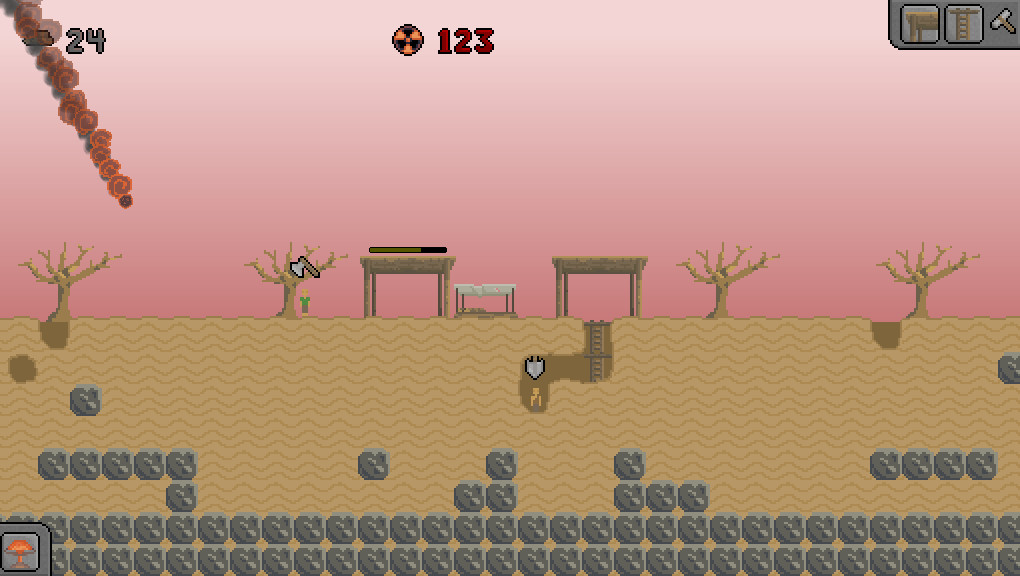 Devlog
7/30 @ 8:30am
I'm starting this game jam a day late, and won't have time to use the third day. 20 hour game jam, commence!

Things I've done so far:
- initial concept
- initial sprites
- Title artwork
- map generator (crude)

Next:
- characters & commands!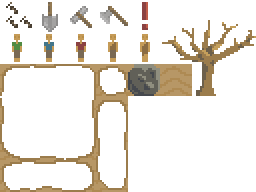 7/30 @ 4:00pm
Several cups of coffee, 8 hours, and no real food later, I'm finally starting to get to some real gameplay.

Things since last log:
- Added stockpile, ladder, and other various artwork
- Touched up various existing artwork
- Initial systems programming finished:
+ give commands to cut trees and dig holes - nearest capable AI automatically complies
+ Path-finding
+ AI will chop and return wood and dig holes (currently only dig from above)
+ Wood count displays on screen
Next:
- ladders, shelter, sideways digging, and meteors!
- ideally, the complete game cycle will be finished in about 5 hours, then I can spend the rest of my time adding more goodies! (mine stone, build with stone, additional disasters, etc)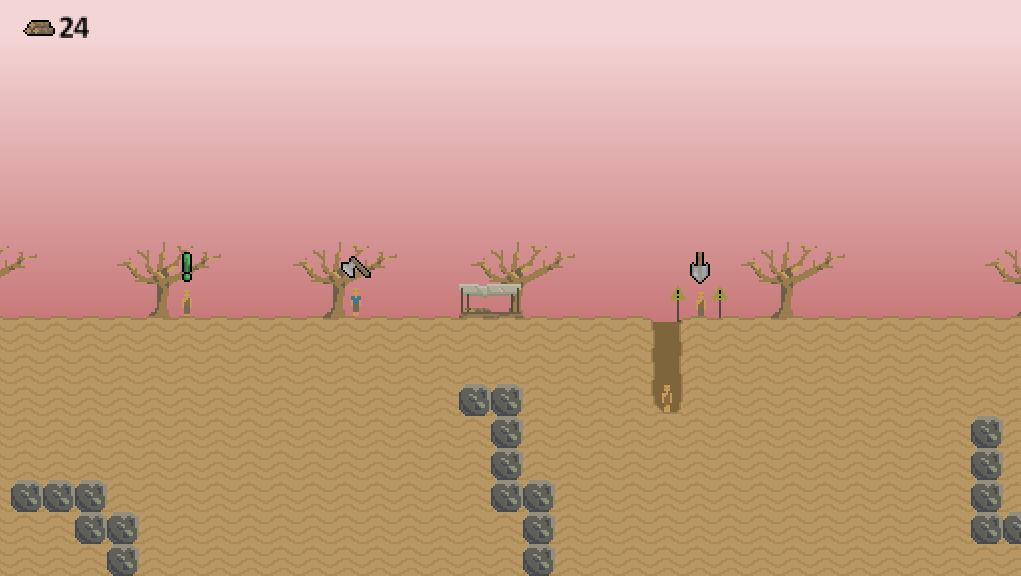 7/30 @ 10:00pm
I've been working for about 14 hours now, with only a few breaks. I can feel my brain spinning a bit as the delirium begins to set in. Must. Keep. Going. Aiming for a final upload in about 4 hours.

Things since last log:
- new sprites - meteor, smoke, build menu, ladder button
- can now dig sideways
- several sound effects
- can now build ladders using new build menu (top-right)
- very basic game cycle complete, as the
meteor shower
picks up and
threatens to destroy everything you ever knew.
Next:
- fortifications to protect against the meteor shower!
- replay-ability (via post
play-through
upgrades)
- more? . . .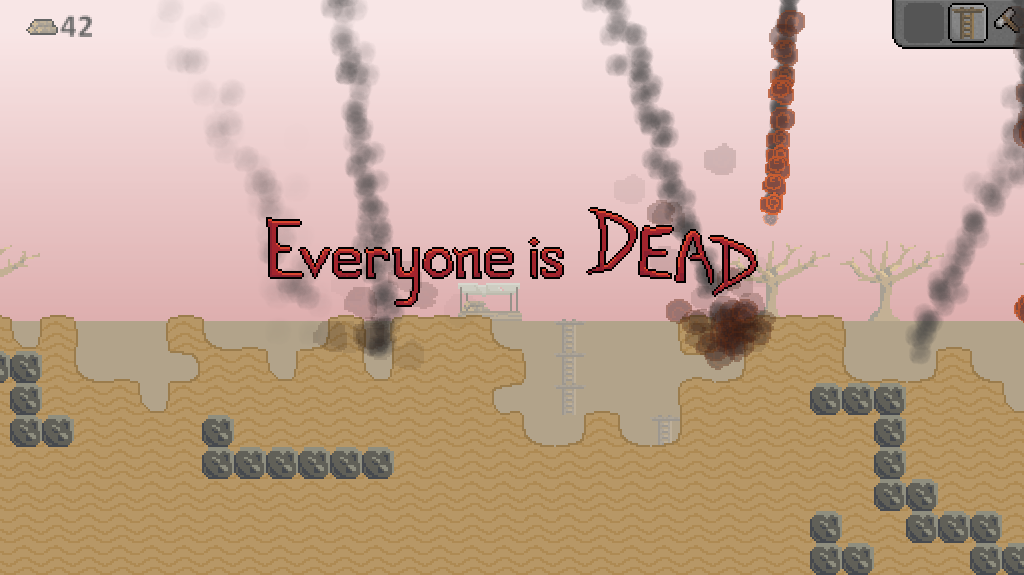 7/31 @ 3:00am
I'm so tired everything hurts. I'm about to fall asleep at the computer. 19 hours of straight programming proves too much. I give in. Everyone is DEAD ... especially me.

Uploading as-is.

Things since last log:
- new sprites - shelter, timer, font, etc.
- can now build shelters
- added countdown timer, etc.
- nuclear ending, bro.
- tooltips for buttons
Next: (if at all)
- mine coin from stone.
- use coin to upgrade starting base.
- various other polish & balance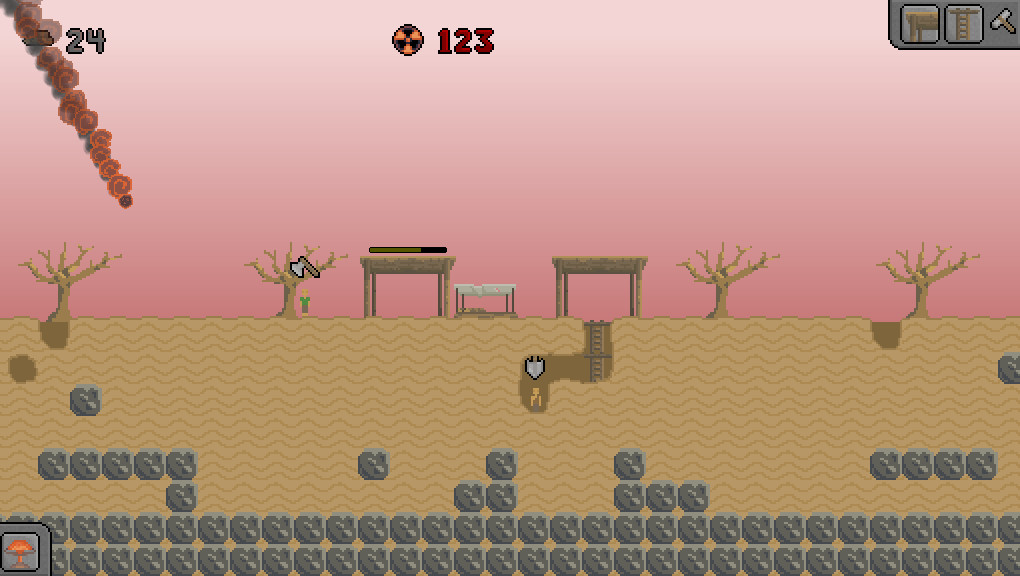 Last edited: