The Magic Bowman
The Magic Bowman is a
adventure-platformer
, filled with
comedy
and story-rich characters.
You play as mr Bowman,
a skilled magic-archer with a passion for dancing
, and part of the Bowman family. You deal with failure, loss and living up to other's expectations.
In the beginning of the game you travel with Umbra, another member of the Bowman family, he's quite clunky as well, but people adore him.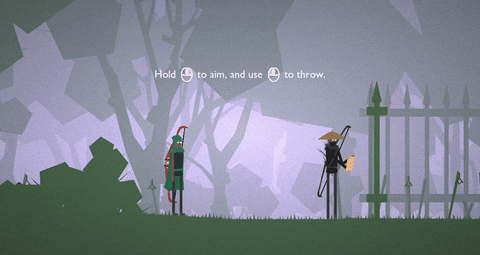 Player (left) Umbra (right)
I've been working on this game for a year now. It started as a test-project to test something out and turned into my main project. Right now (
09-august-2019
) I'm working on the basics-of the game again. Extra-polishing the core features like platforming and battling.
I dislike this game to be all about combat. So I'm working on a system where you can approach enemies in 3 ways;
Combat, Stealth, or Talking
. I want it so that when you but your bow away and approach enemies you can get conversations with them. And if you look at the narrative design good enough, or listened to any conversations they may have had, you can talk your way out of combat or even become friends.
I'm also planning for the character to
be able to dance
when you don't have a bow in your hand. And some characters or enemies react to that. Some will like it, some will get angrier. etc.
And of course your approach choices will effect the levels. If you let someone live, maybe he'll betrays you later on, if you kill someone, maybe you've hurt someone else.
Features in-game:
Movement (walking, jumping, crouching, slant walk, jumpthoughblocks, dodge/roll)
Platforming (walljump, ledge-grabs, skill jumps (like, roll then jump for higher jump) )
Stealth (you can crouch and hide in objects like plants or behind boxes)
Combat (you can aim 360degrees and shoot, the bow has 3 stages of power the longer you hold the button)
Dialogue (a branching dialogue system with choices)
Working on:
Enemies recognizing you don't have a bow and start a conversation.
Text Juice (I want to be able to have text-effects)
Upgrading gear (I want that you can gather materials to get minor upgrades to your skills/gear, like going invisible for x amount of seconds after a roll, or dance better by getting better shoes.)
Smoother movement (still some minor glitches here and there)
Animations (some core animations are still missing)
... more soon
Kyon.
Last edited: