Hello World,
Do you like Pong ? Do you like Flipper (the game, forget about the dolphin) ?
Then you'll love Suprapong.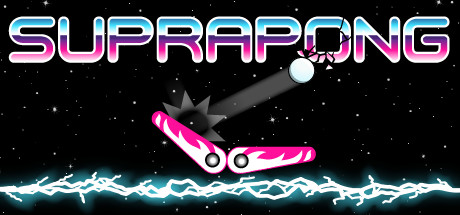 Suprapong is a mix between both and even more. You move around a circular arena and both sides of your raquet can smash the ball, improving it's speed but also changing its direction to trick your opponent.
Because it wasn't enough, you can also use... powers ! Freeze your opponent, create bumpers, protect your side from any ball for a short time... you can choose them before the game start.
https://steamcdn-a.akamaihd.net/ste...d40261010c3fd332f8cb.600x338.jpg?t=1541609823
Choose the game mode, Suprapong let you be more strategic, Bomb also (especially with more than one ball) and if you are looking for action, try the Chaos mode !
Play in local with your friends up to 6 players.
Customise your player, change your colors and graphic patern, select the skins you unlocked by leveling up.
Change the rules of the game at will.
Every option is cutomisable (number of balls, number of players, spells cooldown, time before the bomb explode, ball speed... )
The game is waiting for the final Steam validation, it will be out for sure this month.
https://store.steampowered.com/app/908840/Suprapong/
We hope you'll enjoy it.
You can like and follow the facebook page to have all the news :
https://www.facebook.com/suprapong/
Of course shares are much appreciated. Thanks for reading me and cheers !