SKETCHY INVADERS
(alpha) (windows)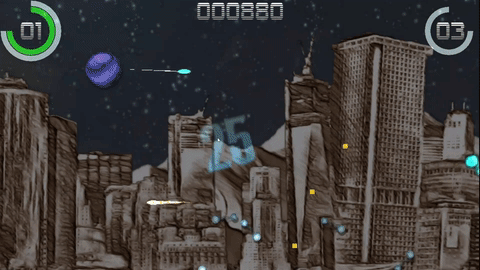 DOWNLOAD ALPHA (16.9 MB)
Your world has been invaded!
Take control of the last sphere fighter, and blast away all the invaders.
Destroy wave after wave with invaders and collect power-ups to survive a little bit longer.
The game offers several levels with intense arcade action and many waves of different enemies.
Game features
· Unique sketchy graphics.
· Explosive wave based game play.
· Random enemy patterns.
· Final bosses.
· Power-ups to increase your health and fire power.
How to play
Shoot everything, collect power-ups, do not die.
Game controls
Control your sphere fighter with keyboard or gamepad
(select gamepad input from menu - game settings - input)

(Keyboard):
Move the sphere with WASD or up,down,left,right
Bomb with N or Z
Fire with M or X

(Gamepad):
Move with left stick
Bomb with (X)
Fire with (A)

Common keyboard controls
ESC to pause game
Backspace to Exit
ALPHA INFO
The game is not finished and there are more things to be added like:

· More power-ups / weapons
· More bosses
· More bullets/bullet patterns
· More movement patterns for the enemies
· and more of...
Comments, thoughts and suggestions are appreciated.
​
Last edited: