Hello!
We are an experienced writer/artist duo who have been involved in numerous adventure gaming projects for nearly two years now.
We began first in
Adventure Game Studio
and have only recently begun to expand our efforts into Gamemaker. In this process we discovered that we function far better in our aforementioned native roles, and are now consequently searching for a committed programmer to join our team.
Our work is currently on interactive storytelling experience dubbed
Skin Slash Flesh
.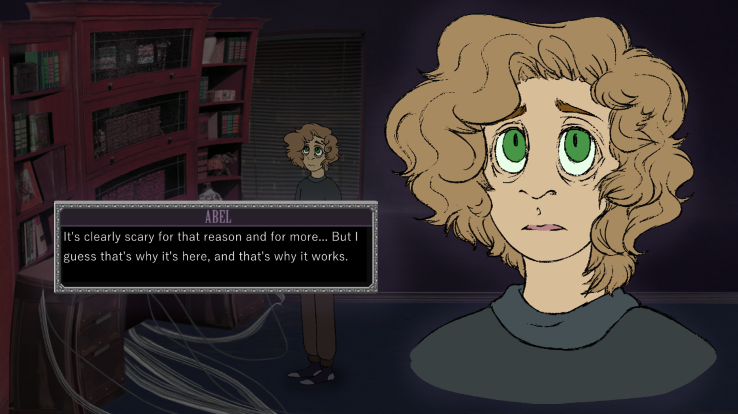 Above is an early mockup showcasing many of the game's essential mechanics, such as intuitive dialogue systems, complex GUI, and choice-and-effect-based gameplay.
Non-technical aspects (such as story, etc) will be further elaborated on with the chosen programmer.
ADDITIONAL INFO ON THE JOB
As specified in the title, dedication is an imperative. You will be working closely with the two of us and be involved in every step of the process. We highly encourage the new team member to bring along their own unique artistic perspective for the project. The programmer must be okay working with extensive body horror, gore, and venereal imagery.
The game is relatively small to intermediate in scope/length. Most of the playtime is spent reading, although the game also contains several puzzles and experimental twists. Our work (as of writing this post) is nearly complete. Your task will primarily be to fit those pieces together and create the engine in which the game runs.
Pay is highly individualized and based both on prior experience, and quality of output in the course of this project. Both my partner and I are struggling students and want to stress this job is mainly for artistic merit, but a lesser degree of pay is assured.
ADDITIONAL INFO ON THE TEAM
My name is Petra. I tend to go by "noto" on forums. In my spare time I write for
HardcoreGaming101
. My most recent article is
Bloodnet
.
My partner goes by the alias "SickSpirit". You can see some of their work in the mockup.
CLOSING STATEMENTS
Any and all questions are welcome. We are happy to clarify whatever we can, be it publicly or privately.
If you are interested, please email
contact.sickspirit@gmail.com
.
Please send a portfolio, as well as a brief message detailing necessary skills. If you seem like a good fit, we will respond and set up a time for an interview over Skype.
Last edited: