Hi there GameMakers, I would be very grateful if you could check out my very first game, Save the Oceans!
Currently in Beta, it's available to download free for Windows and Mac
at :
https://cullitech.itch.io/save-the-oceans
Story.
With the world gone to pot, and nobody giving a hoot about what they're doing to the planet, it has been decreed that the only way to save the oceans is by piloting your weapon-sub through the depths of the sea, blasting away all the affected creatures and picking up the bits of plastic pollution. (We've checked with the scientists and it's the only way.)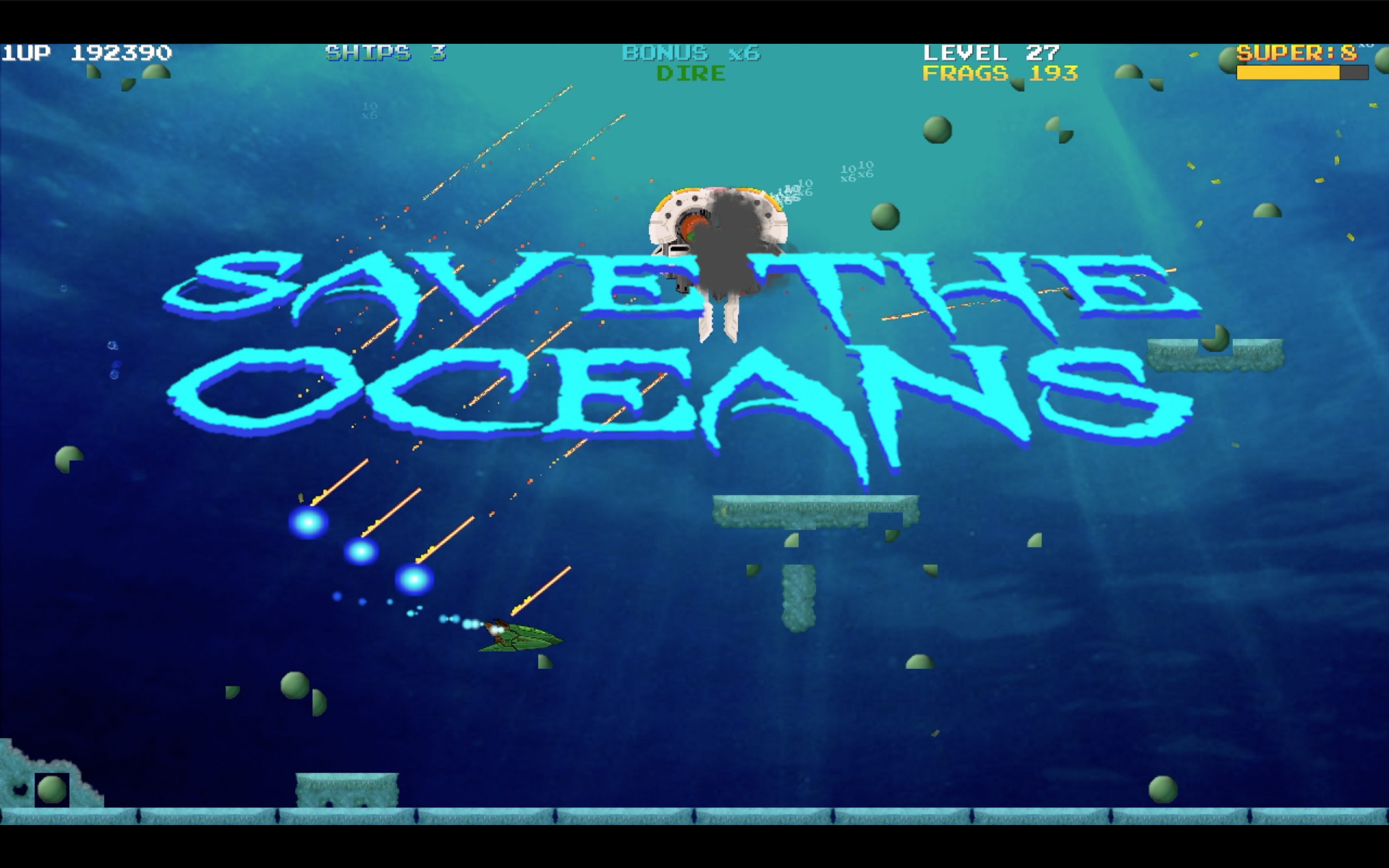 Gameplay.
Save The Oceans is an arcade-style blaster developed using GameMaker Studio 2. Use a joypad to pilot your sub, button A will fire the blaster. Destroy any plastic-riddled lifeforms that come your way. Once destroyed they'll disperse their plastic fragments into the ocean, you must pick them up as they're used to charge your Superweapon! Avoid hitting the nasties, they hurt you. If you so wish, you can fire your Superweapon with button B, spitting laser death all around you. You have five charges to begin with, collect fragments to power it up and get more. Some of the power-ups require the use of the right-hand stick on the controller.
Press start button to begin, if you wish to exit the game, press Escape on the title screen.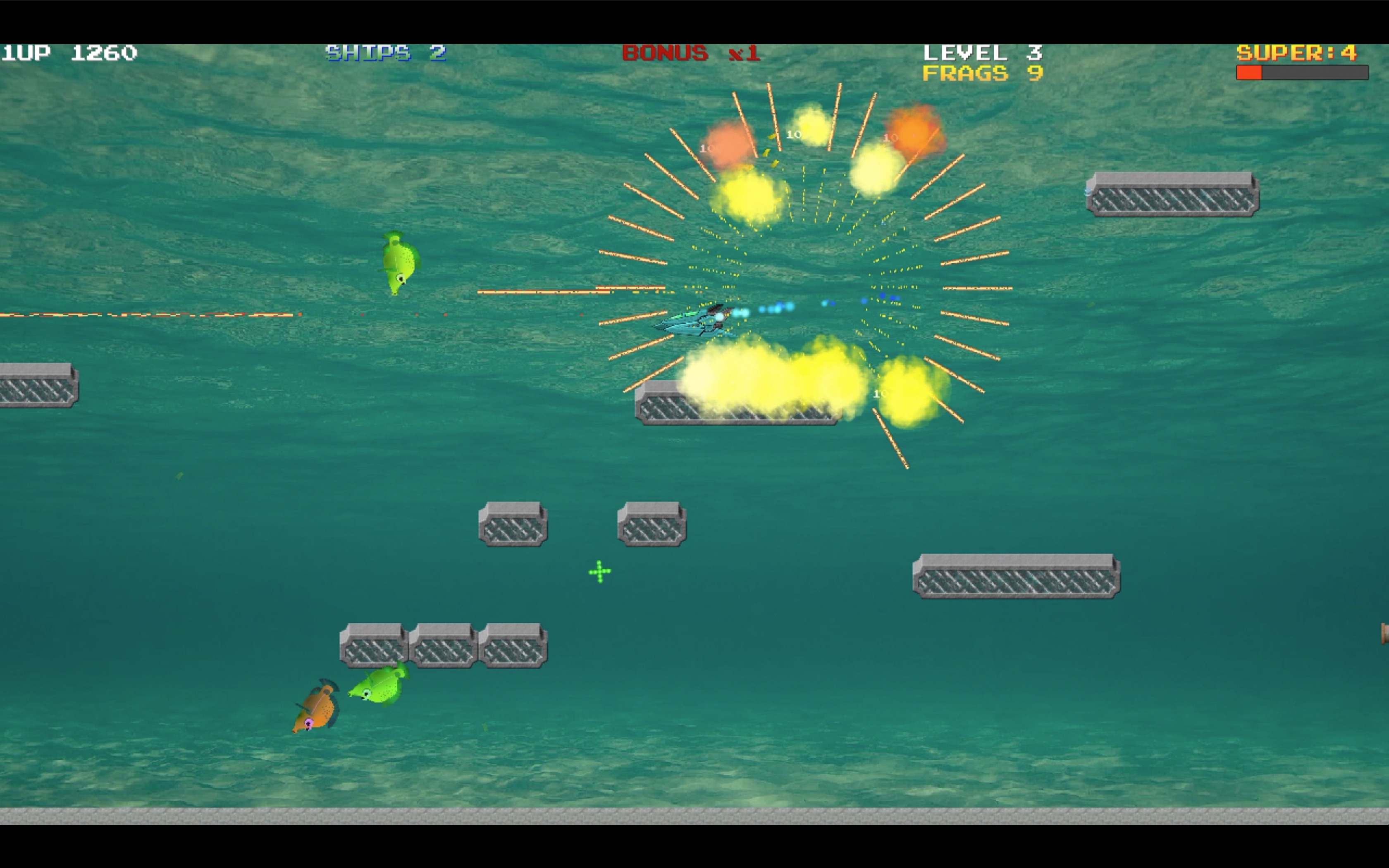 Occasionally a toxic waste canister will drop into the ocean, pick it up to gain points. We're not sure who is dropping these canisters into the sea (probably some evil corporation) but one thing is for sure, if you manage to collect them in order, it makes your superiors very happy! There are usually ten per level, pick them up in numerical order for a Canister Collection bonus. If you pick any up in the wrong order, don't worry, there's always next time. Collect all the canisters to complete the level.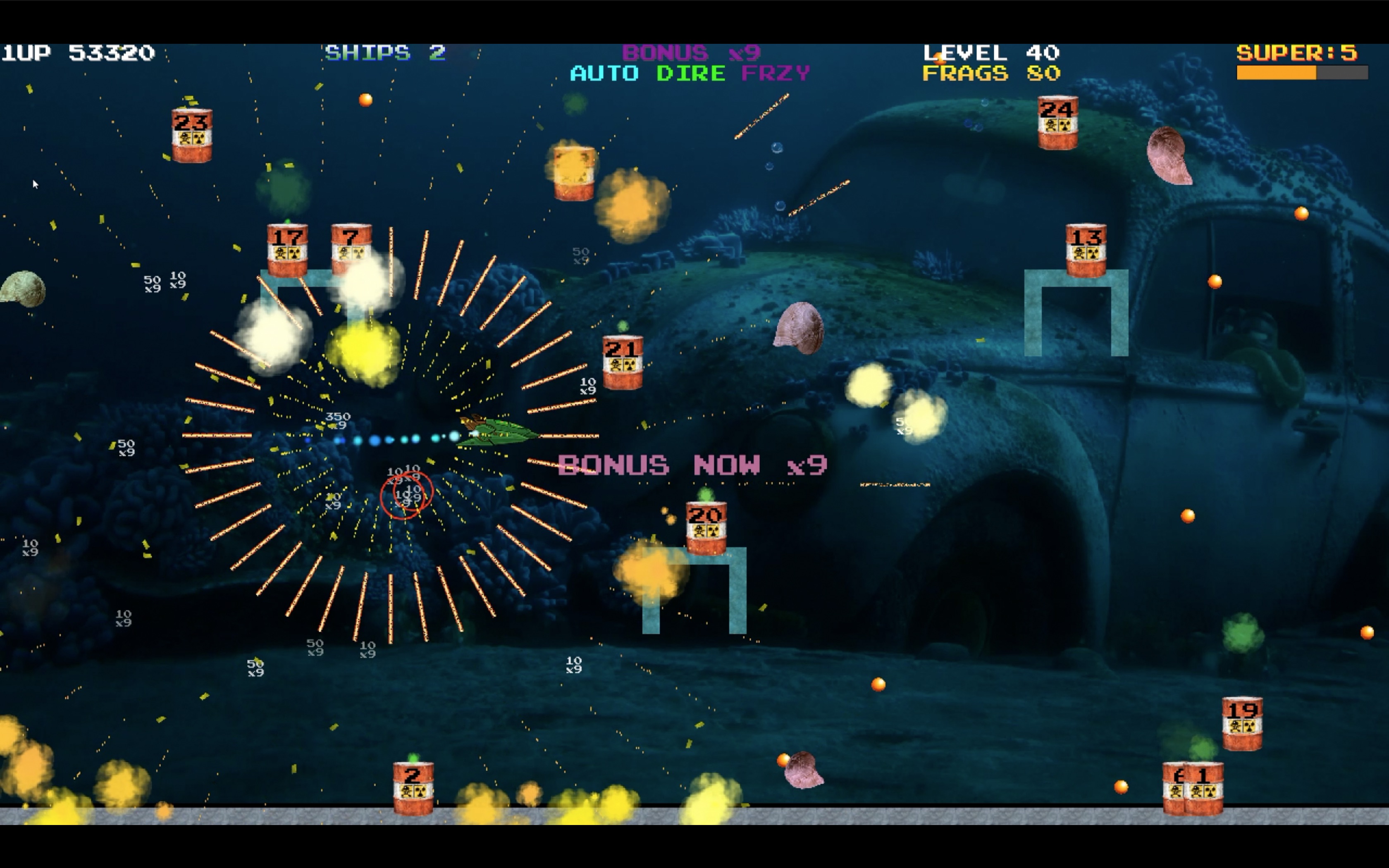 When the final canister drops, you'll hear "alarm-like" music, this signifies that you should get a move on! You have around ten seconds to complete your mission (collect all the remaining canisters) Don't hang around as NEMESIS will arrive and shoot at you! This vile creature will home in on your position too, and eventually destroy you. Collect the final canister if you see him and you'll escape with your life!
The more baddies your shoot, the more chance you get of obtaining a bonus multiplier, pick this up to get more points. You start at x1 but you can get to a maximum of x9 points on everything you shoot or collect.
Once a level is cleared, you'll be awarded your bonuses…
1000 points for every canister you collect in order, if you get all 10 in order you get 25,000 points.
A "survival bonus" is also awarded, based on the number of nasties you shoot without dying.
Skillful piloting of your sub also awards you a bonus, try not to hit anything as you scoot around.
To complete the perfect level you would need to get all the canisters in order, not die and pilot your sub skilfully and not hit anything. Easier said than done!
Keep on shooting the baddies, charge up your superweapon by collecting the plastic fragments and you'll get the chance at a power globe! A power globe is a lootbox that appears after a time, and contain a mystery gift. They're usually shielded when they appear, so blast away the protective shield to gain access to the contents. Once the shields are down, grab it for a (hopefully) decent gift! You may get more firepower, a points bonus, an extra life, or something completely different. Power globes decay after a while, so make haste to grab them when they appear. There'll be a warning sound to alert you too, it may appear on another part of the level.
There are 50 levels, if you manage to get to level 50 you must destroy the evil NEMESIS! After that, you begin again in HARDCORE MODE!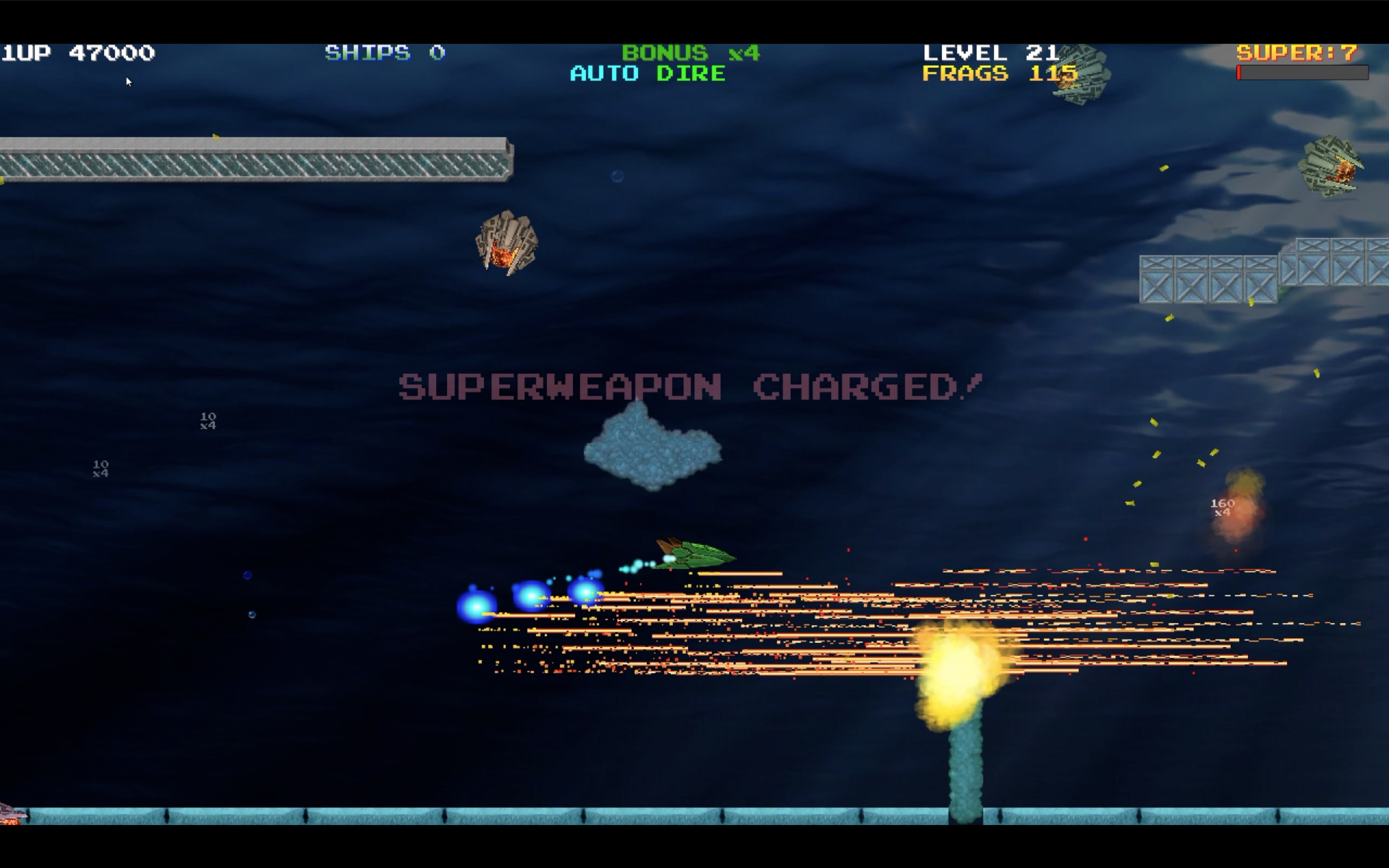 Beta information...
It's all but finished, but so far the only person in the sea that's played it is me! It will available as a free download, please grab it and test thoroughly. There are a few issues I'm aware of, which I'll fix in the next release, if you encounter any problems, let me know through this thread, or twitter @stoarcade or email
info@cullitech.com
Other stuff...
I discovered GMS2 and initially used it as a quick method to prototype games I was going to write using XCode and the Apple dev tools. It quickly occurred to me that GMS2 is much more fun, quicker to develop and surprisingly powerful! After several aborted attempts at game ideas, I stuck with the Save The Oceans idea as it became (for me anyway!) a fun game to play. I just wanted a fast, smooth and simple arcade blaster with that feeling of, "ooh I could have done better on that level..."
The game will be released as a freebie, with maybe a donation via itch.io for my efforts, all the coding is mine, the music is me messing around with Logic loops and the graphics are all either bought or borrowed off the interwebs. I am giving full credit to all those designers that place there wares for free on the net.
UPDATE 31/12/18
Available now for PC or Mac and now with keyboard controls (although an xbox-style controller is recommended)
Movement - Cursor keys or WASD
Fire - Enter, Ctrl or Left Mouse Button
Superweapon - Shift or Right Mouse Button
Directional Fire - Mouse movement whilst firing.
Good luck out there and happy blasting! My high score is currently 3259950 (without the cheat mode!)
May your power globes be pleasant and may your superweapon be forever fully charged!
Mark.
Cullitech.
Last edited: