ONE TRUE CUDDLE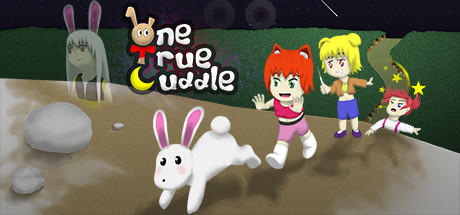 (Latest News)
Come and play if you are interested~
One True Cuddle on STEAM
Steam Description:
A top-down platformer where you play as a rabbit that's kidnapped, to avoid all obstacles and find your way back to your owner. But...
*something else is happening*
SYNOPSIS
Starting from a certain rabbit race, you were kidnapped by a group of aliens to execute some kind of experiment. From there, you'll be forced to join a certain experiment and get yourself some mystical alien power to assist you in reaching your
One True Cuddle
, your true owner.
STAGE TYPES
SURVIVAL : Stay uncuddled (not dead) until the time is up!
RUSH : Clear the stage as fast as you can!
PUZZLE : Leisurely solve the puzzle and reach the goal!
AREA BOSS : Just plain and simple, defeat every enemies in the room!
WHAT CAN YOU DO?
Clear the stages, collect stars and reach the different endings depending on the sum!
Stomp on certain enemies to stun and damage them!
For every boss you beat, you get a special genetic form you can change into!
Each gene gives you different special abilities to disturb the enemies.
. . . Character Introductions are on the
STEAM
Last edited: