Mr. Puffer's Vacation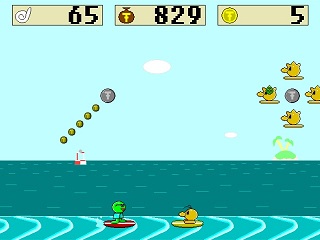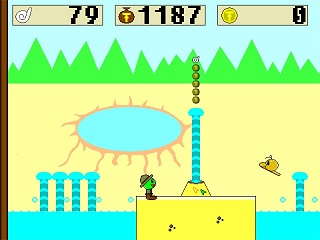 If you hate the cold like I do, you can at least
pretend
it's still summer by playing this game.
This is a simple platformer with mouse mechanics. Move and jump with the arrow keys (or WASD) while using the mouse to shoot enemies or manipulate objects. There are 8 levels chosen through a hub level (but you don't need to beat them all to beat the game). Each level has new mouse gimmicks. You can drag moving platforms closer or drag hazards away, click switches on and off, drag keys into keyholes, all kinds of stuff.
The main game is short and has to be beaten in one sitting, but there's lots of extra content in the form of game cartridges. Each level has hidden game cartridges you can find. After you beat the main game, you unlock "Game Man" mode, which lets you play the game cartridges you've found. There are 20 in all, such as special Time Attack and Score Attack courses, a boss rush, and original mouse-based mini-games.
Controls:
Left & Right / A & D - Move
Up / W / Right-click - Jump
Mouse - Aim
Left-Click - Shoot, interact
Space / Enter - Pause
Made with Game Maker 7. I made all the graphics and music myself (most of which is recycled from my previous games). I had fun making this, it was a good way to experiment with different mouse functions. I don't plan on updating it, but any feedback will be taken into account for my next game, which will have similar controls.
Download here:
http://www.eckergames.com/mpvacation.html
See more screenshots here:
http://www.eckergames.com/mpv_screens.html