Hello all fellow GMs!

During August and September we're looking for players who like to help test DASH: Danger Action Speed Heroes and content creators who like to stream new and original content. DASH is slowly coming out of the alpha stage and we're looking forward to Early Access later this year.

FREE ALPHA KEY UNTIL THE END OF AUGUST 2018​
Everyone can easily create, share and destroy in this 2D precision platformer creation tool! Live on Steam in Alpha state since the end July 2018.
DASH: Danger Action Speed Heroes
is designed for creative and competitive players from all around the world. Speedrunners can master the mechanics and discover new and faster paths through user generated levels. Level creators will challenge runners to clear their custom worlds of gaps, spikes and power ups! Wall slide, double jump and double dash your way to glory.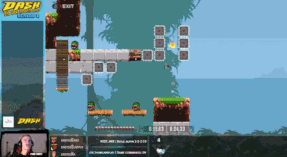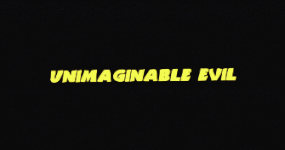 How To Join and Get Started with DASH:
Join the DASH Discord server here (
http://discord.gg/3JPpNey
) or go to
http://www.babyduka.com/dashgame
and click the JOIN DISCORD button during August and September and get your free alpha key! Go to the server, write our bot
(botlife)
!getkey
and receive your Steam key right away!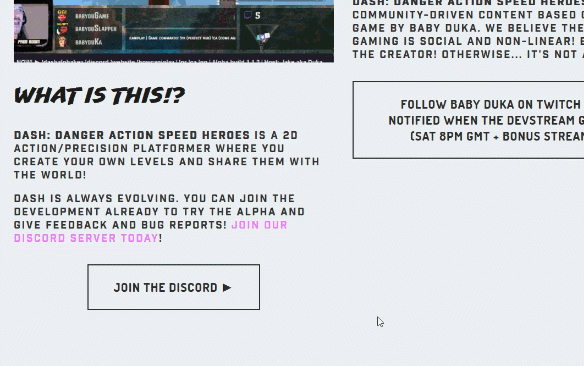 As you arrive you will be welcomed by the bot showing you basic commands and guidelines. We are looking forward to seeing new faces always! There is currently already over a hundred testers on the server.

DASH is a platformer creation tool for the pc (Windows and Linux). You can jump directly into the editor and start building your levels. You can train your skills to better know the world and ways to set that world record! Go to the server and write
!listlevels
in the
#user-level-forum
channel. Write
!showlevel
and receive info such as Level Hero, High Score and Level Creator.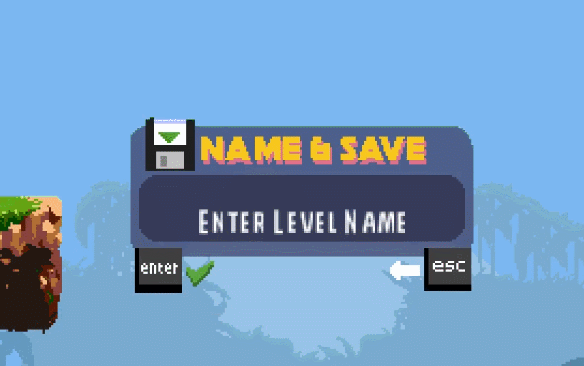 Give your feedback, report the bugs, come up with new ideas to integrate in the game!
In October DASH will go into Early Access on Steam and together we will build and design the ultimate 2D pixelart platformer creation tool there is on the market! Come be a part of it!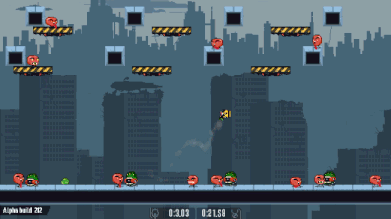 Go to the official homepage
http://www.babyduka.com/dashgame
to find the first teaser and Discord link.
This offer is
FREE
in August and September 2018. We are hoping to gather passionate players, competitive souls, and creative content creators in our community! We urge you to join and help shape this piece of GM-based software!
---------------------------------------------------------------------------------------------------------------------------------------
Because DASH is a 2D platformer I feel so at home in GM:S 1.x which is my preferred engine. With no crashes or major issues, going every day on an average of seven hours for one year now, I really feel safe and happy with my choice. I began coding with gml back in 2015.
Thanks for reading and hope to see you!
- Jakob Overgaard (developer); Baby Duka, Copenhagen