Linked Worlds has been Greenlit. Thank you so much for the support.
****************************************************
Hi Everyone! I have just added a
demo in gamejolt.
You can download it here (you don't need an account to download it).
https://gamejolt.com/games/Linked_worlds/257537
If you like it, remember to upvote Linked Worlds in
Greenlight
.
Thanks!
****************************************************
Hello everyone! I'm proud to say that Linked Worlds' Steam Greenlight campaign is live!
I would be grateful if you could check it and help with a YES vote .
Here's the link:
http://steamcommunity.com/sharedfiles/filedetails/?id=919899366
You can see the trailer here:
Thanks!!!
Previous entries:
****************************************************
Hi Everyone,
I haven't shown many updates in the forum, and there's a lot of new people since my last update, so here's a big one!
I will soon launch a steam greenlight campaign (probably tomorrow, I will let you know), since it will soon be taken down and the game has improved a lot, It is now or never.
The demo I posted in gamejolt is really outdated (and probably buggy) so I don't encourage you to play it, so here's a gameplay video I have just uploaded.
Any comment or question is welcome. I hope you like it.
For more updates you can follow me on twitter or facebook
@Linked_Worlds
facebook.com/linkedworlds
****************************************************
Hello Everyone!
I have made a new demo, you can find the
demo in this link
Here are some of the improvements with this version of the demo (Oct 9th)
- Fixed several bugs
- Fishing (you get the rod at day 8 from the fisherman)
- Added a few animations to make the game more lively.
- Corrected walking animation
- Added music & Sfx
- Change volume of music & Sfx separately
- New some quests
- You can visit the second town
- A Bard in a bar can play music for you.
- Added a day change animation
- Probably some more things that I can't remember now
Remember to follow on twitter or facebook for more info
@Linked_Worlds
facebook.com/linkedworlds
Any comment is really appreciated, be it good or bad.
Thanks and enjoy !!
****************************************************
Hello Everyone!
I've been using game maker for a little more than a year, and during this time I've been working on my first game, Linked Worlds.
Right now I have and alpha demo that can be played up to the first boss.
If want to try it out, here's the
link in gamejolt
Story
Eleven years ago, the Dark Beast appeared from the Sky Tower, spreading it's curse through the continent of Cestina, until the four heroes managed to seal the beast.
Now the beast has been unsealed, and Albus, adopted son of King Magnus, must start his journey to defeat the Beast once and for all.
Key Features:
Grid-Based Movement. (for map and battles)
Day/Night Cycle. (most enemies will be stronger at night)
In-game Days/Hours (each step = 1 minute): Certain events will happen on certain days, no matter where you are. NPCs lives also go on. (some even may die without you ever realising)
Optional bosses and routes.
Many active & passive skills, buffs & debuffs, healing & damaging items.
Beautiful Pixel Art
Great soundtrack
Xbox 360 controller compatible
Screenshots:
-Battle screenshot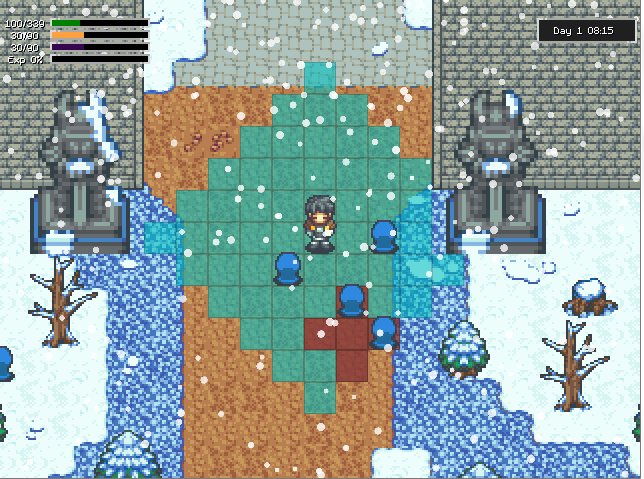 -Shops open on different hours
-Abilities grid, as you level up you will gain new abilities. With each level, you will be able to set a new one. (The can be set/ unset any time for more flexibility)
-Life continues, you may be in a dungeon and something else is happening in a town far away.
Getting Dark
You can even fish!
Some comments:
-You can only SAVE in rooms with a cristal, o where you can rest (e.g. Inn)
-English is not my first language, so I apologise for spelling or gramatical errors you may find. They will be corrected in the future.
-Controls: Controls can be viewed/changed in the setting menu. But in the start menu you can use both arrows (+z+x keys) and WASD (+j+k keys)
-I still have to balance the stats, weapons, prices, etc. If you have any comment on this, I'm all ears.
Download the
demo here
I hope you enjoy it!
Any comment, question, critic or idea you may have is really apreciated.
If you are interested in seeing more, you can follow me on twitter or facebook
@Linked_Worlds
facebook.com/linkedworlds
Thanks!
Last edited: