"Are you going there? Good luck, adventurer. You will find the holy man. The miracle worker

He helped everyone in the village. He healed diseases, exorcised the demons of the forest and protected them from evil, all with their divine powers. All with your faith

Once, I took my little brother to him. He was sick, and he healed him.

My brother then asked if the power of that god could cure any disease

He said yes.

"Even death?" He asked.

The holy man was troubled by that question. He said no, that dealing with it was not right, that dealing with the order of life and death is blasphemy, and that God would not allow it. He turned his face, and said he would never try that.

But I felt something in his discomfort, a hint of desire: Deep down, he wanted that power.

Could this be the only thing his god could not provide? Could it be that the power to heal death was his only temptation?"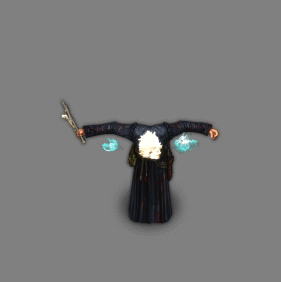 ​
So Yes, IzoProject is not dead !

Hey folks! How are you all ?

So yes, being a long time not posting anything... The fact it's that izoproject got a new re-scope so I could be able to end it...

So the text above it's a piece of lore that we've being developing in the past days. Also we revisited the game design elements to see what is relevant and what is not.
I'm removing most of the procedural generation ideas of the game and giving it a more story driven pace. This game still getting all the dark and depressing mood of Diablo II and DarkSouls, they continue to be the highest reference of this game.
you can read more lore here: https://forum.yoyogames.com/index.p...iablo-roguelike-arpg.24573/page-4#post-292129
So what is new ?
Story Driven game, with focus on Boss battles.

Puzzles to solve to progress inside the story

Sides to take and possible conversation solving situations instead fights
The battle mechanics will continue the same. So you'll have :
Twin-Stick control scheme

pack of skills that you will be able to combine freely when unlocked

3 equipment slots (weapon,armor,amulet) that will change your status/visuals and lite level up system.

Score / Combo System continues to give frenetic and arcade gameplay on fight sections. (replayability, leaderbords appeal is also something here)
The game will not be :
Procedural Generated

RogueLike (Lite or whatever)
What still in design :
Co-Op gameplay. This was something that was previously designed for the game, but now with a story focus, we might think that this can break the immersion on the story and also is something difficult to implement without meaning.
This is the very first game that I'm trying to do and launch for real, so it's ok to step on some rocks and errors.... The thing is to never give up of your game and your ideas. This is the game that I always wanted to play and now I'm trying to make this a reality... And for sure I'll if I keep hitting the wall until I break it. =)
[ALPHA GAME TRAILER]
If you want to subscribe to receive news:
Please feel free to give any comments or critics about it, just please tell me why the reason.
////////////////////////////////////////////////////////////////////////////////////////////////////////////////////////////////////////////////////////
[OLDER 11/29/2017]
https://forum.yoyogames.com/index.p...iablo-roguelike-arpg.24573/page-4#post-292128
[OLDER 09/19/2017]
https://forum.yoyogames.com/index.p...pg-update-10-20-2017.24573/page-2#post-224904
[OLDER 08/03/2017]
https://forum.yoyogames.com/index.php?threads/izoproject-diablo-style-roguelike-arpg-update-08-03-2017.24573/#post-214229
[OLDER 07/112017]
https://forum.yoyogames.com/index.p...ike-arpg-update-07-25-2017.24573/#post-196422
[OLDER]
IzoProject - Isometric RogueLike ARPG (Diablo Style with TwinStick-Shooter Controls)
Last edited: