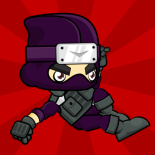 V1.0.0
Genre - Puzzle/Adventure
Developer - OutTheBoxGaming
https://itunes.apple.com/us/app/ingenuity/id1083987632?ls=1&mt=8
https://play.google.com/store/apps/details?id=com.OutTheBoxGaming.Ingenuity
Ingenuity is an action-pack puzzle and adventure game that encourages you to constantly think outside of the box in order to complete the tons of tricky levels. Unlike any game on the app store, Ingenuity shines with its entirely unique gameplay.
PLEASE NOTE! Ingenuity is paid to download and play, and some of the items in-game may be purchased with real money. This feature may be disabled in the settings menu under in-app purchases. If youare considering purchasing an in-game item, an internet connection is required at the opening of the game.
FEATURES!
+ Ponder for hours on end solving the over 100 challenging levels
+ Fully functioning economy and starring system
+ Stunning cartoon-like graphics
+ In-app purchases in order to buy in-game cash
+ A soundtrack that will stick
+ Tons of hilarious Easter Eggs
SUPPORT!
If you are experiencing bugs or just need help, contact us at our designated email address:
info@OutTheBoxGaming.com
. I will respond within a week as I am a single developer who is still in school.
ABOUT THE DEVELOPER!
My name is Daniel Lochner and I am a student at Glenwood High School, South Africa. I am currently aged 16 and an indie developer. I began coding when I was around 10, and it has been my passion ever since.
KNOWN CAVEATS:
- Purchased character skins will not contain the climbing animation
- Ad watching feature is unavailable!
Showcase Screenshots:
I have spent over a year developing it and I am an individual developer. I am only 16 years old and so I was not able to register in my own name and so I registered it in my mother's name. Thank you for your time.
Kind regards,
Daniel Lochner
-----------------------------------
Owner of OutTheBoxGaming
------------------------------------
Last edited by a moderator: