How would u design a menu like :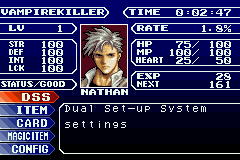 would u have different rooms for each part of the menu, or u would u have 1 room and use images and when a click on 1 option it deletes all objects in room and replaces them with whatever objects is needed for the menu option u selected.
if u go with making them all different rooms, how would u go back to the room when u pressed the menu button and make it remember what room you was in.
I want to go with whatever is best, I don't mind coding even though i am still learning. I am makign a castlevania type game (not a fan game.) and was wondering what best way to go about making this, there is no tutorial for making menu's just title screens.