Hello,
I'm working on an top down RPG.
Ive gotten my depth and stuff sorted out but I've run into a problem.
I want my collision to be untied to the tiles, that's why im using physics and objects as collision.
You can see my problem in this screenshot: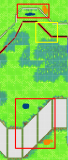 The blue marked part is one floor higher than the orange one.
Each floor is its own tile layer.
What i want is to disable/enable the red/white collision borders depending on which floor the character is on.
But I don't seem to find a way to get an instance of the object layer or the instances of the objects in one such layer.
I hope you understand my question and can help me.
With regards,
RenNagasaki