Advanced platform for for many purposes! With this
platform engine
, you will be able to make your own game without changing almost anything and at the same time having control of everything! Everything is very easy to customize, just change numbers or sprites and you have made a game!
For Game Maker Studio 2.3+ (Latest)
GALLERY:
Some GIFs of how the project is.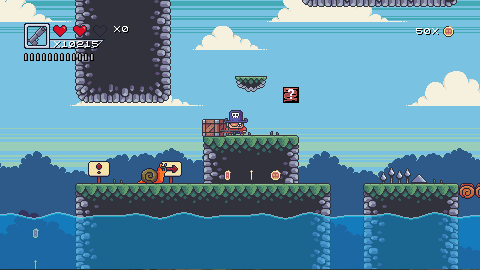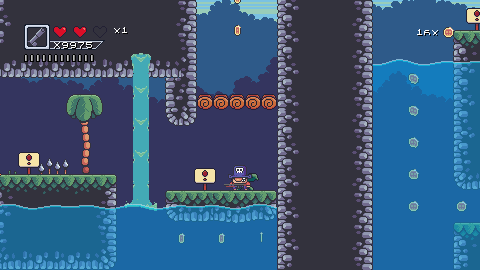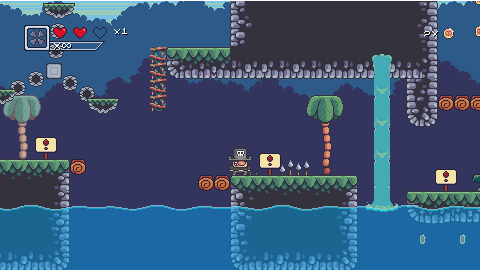 FEATURES:
What you will find in the project.
Skills System: 4 types of skills that can be easily modified, added or removed. Using enumerators for the system.

Normal: You can put a sword in your hand to deal damage if you want.
Bomber: Drop bombs to kill and destroy everything in your front!
Shooter: Shoot with your weapon, it has spare ammo and reload time.
Shuriken: Like a ninja!, pull items for yourself with this skill.

Gamepads: Supports Direct Input and XInput controllers and others.
Save and Load System: Secure system that uses JSON and buffers (unreadable format).
State Machine: The player changes actions in a simple way using enumerators.
Jump/Variable Jump: You can jump and control the jump height, can be customized.
Multi Jump: Single, Double, Triple or infinite jump! You choose.
Friction and Acceleration: For the player.
Run: The player can run faster.
One Way Platform: Jump underneath the platforms and fall through.
Fall-through platforms: Can be deactivated in any instance.
Ladders: You can also shoot from the side when climbing.
Climb: On walls, I walked lightly.
Wall Jump: Climb and jump walls as you slide.
Wall Slide: Slowly slide down any wall.
Ice terrain: Slide on the ice!
Pixel Perfect Camera: Make the game look good on all screens! Smooth and fixed camera. You can change the focus of the camera just by setting the variable for any object.
Camera Shake: The camera shakes when taking damage or anything you want.
Camera Focus: Focus the camera on a specific area of the room.
Pixel Perfect Collisions System: Choose an object to be solid, you can stretch it that will work! No problems with infinite loops or crash.
Water Shader with Physics: Any sprite can be used as water. Control the brightness, saturation, contrast and color of the water via code.
Swim: The player can swim and walk underwater.
Menu: Uses only keyboard and gamepad, can adjust volume and others.
HUD/UI: Show your lives, scores, bullets, skills, coins and more.
Parallax Background: Depth effect in the background.
Dialog Boxes: Use only one function to add dialogs! No need to duplicate objects, can be done in the room editor. The text fits perfectly without extra words appearing at the end, it is possible to skip the text animation.
Plates with Text: Contains text that can be read using the dialog boxes.
Slopes: You can create any type of uneven terrain. (Recommended not to get close to 90 degrees vertical).
Terrain raycasting: The object you want can rotate on the ground (an enemy for example).
Pushable Box: It can be pushed and rotates on the ground.
Conveyor Belts: Auto configurable, just choose the sprite.
Moving Platforms: Both horizontal and vertical.
Directional Platforms: Change the number of platforms, circles, distance, distance between circles and speed.
Path-based platforms: Jump to activate or activate automatically, use multiple paths in one instance, draw path lines.
Silhouette Flash Shader: Perfect for demonstrating damage to an enemy when hit.
Trail effect: Leave the trail of any sprite to create a Metroidvania like effect. (can be customized.)
Coins: Collect coins that can be used for something.
Lives and Health System: Lose health when hit the player, lose lives if you have no health.
Invulnerability System: Player and enemies become invulnerable for a time when hit them.
Power ups: Comes with two types of power ups, bombs and lives, you can add as many as you want without having to duplicate objects.
Spring: Bounce, hold up to bounce higher!
Flexible Keyboard Map: All key events are stored in variables to be able to map in a simple way.
Music Player: Play a certain song at each level.
Audio Groups: All music and effects are organized into audio groups.
Pause: Pause the entire game at any time, and all sounds also pause!
Game Over: If you lose all lives, you will be returned to the menu. (or a game over screen).
Game Transitions: With a shader, you can create any transition between rooms however you want. Easy customizable.
Flag: Take it and go to the next level.
Damage Object: Make any thorn damage the player.
Custom Font: Includes a custom font that can be replaced.
Particles: Smoke when walking, slipping, explosions, water bubbles and gun fire.
Debugger: Includes X-ray, FPS, Real FPS, bounding boxes and others.
Optimized: Objects out of camera view are not drawn and you get performance on Android and iOS platform (and all others).
6 Enemies (with AI):

Pterodactyl: Move smoothly left and right while looking at the player, step on top to kill him.
Fish: He stays in the water, just go over that he jumps high in random positions, you can kill with bombs.
Slug: While walking, if he realizes that the player is in front of it, he starts facing and start throwing his disgusting slime towards the player! If you step on top, it curls up in the shell and it is possible to kick it and if it is stopped for a while, it will return to normal. it doesn't take damage from the shell.
Spiky: Walk left and right, sometimes jump and you can only kill with bombs.
Dinosaur: Walk left and right, stepping on top will flatten he out.
Carnivorous Plant: Look in your direction, if you get close it switch to attack position.

YYC Compatible.
Compatible with all platforms: Desktop, Mobile, Console and HTML 5 (with standard restrictions).
Variables names and general code with consistency.
Easy to modify and extend to your needs.
2 example levels and 1 for tests.
All codes are commented by parts (but they are not supersaturated).
The player's entire logic is independent, so if you want to remove some functionality, it's easy.
Includes many sound effects and 8-bit music.
All sprites, audio and codes can be used in commercial games, BUT, you cannot resell this source code itself even if modified. (See EULA). If you find any problems, feel free to contact my email.
Made by a 9 years+ experienced programmer.
Credit is appreciated, but not mandatory. (Foxy Of Jungle ).
Everything is in a .yyz file, just open it with Game Maker Studio 2. (File > Open Project) This is a source project, using GML.
BUY PROJECT:
- - - - - - - - - - - - - - - - - - - - - - - - - - - - - - - - - - - - - - - - - - - - - - - - - - - - - - - - - - - - - - - - - - - - - - - - - - - - - - - - - - - -
BUY IT ON YOYOGAMES MARKETPLACE
|
PRICE: $30
TEST IT ON ITCH.IO
(
DEMO, .zip and .apk)
|
Foxy Of Jungle
(Get more amazing assets!)
(Both stores have identical versions that are stable). Itch.io password: foxy123 (The Itch.io site is under maintenance, will come back in the future).
- - - - - - - - - - - - - - - - - - - - - - - - - - - - - - - - - - - - - - - - - - - - - - - - - - - - - - - - - - - - - - - - - - - - - - - - - - - - - - - - - - - -
All support will be given to those who buy the content, more updates will come.
(Read EULA on itch.io fro some details).
After purchasing, you will receive free updates.
Attention: This is not a mix of several projects, everything was done carefully from scratch and with love, all the details were thought out. I guarantee.
Thank you for getting here!
- - - - - - - - - - - - - - - - - - - - - - - - - - - - - - - - - - - - - - - - - - - - - - - - - - - - - - - - - - - - - - - - - - - - - - - - - - - - - - - - - - - - - - - - - - - - - - - - - - -
ROADMAP UPDATED (To-do list):
Note that all of these things take time to do and what is written below can be removed or added at any time, it is not guaranteed to be included, but it is possible and I would like. There is no specific order of when I will add.
New powerful State Machine engine (It will be used for both the player and other things like enemies)
New Input system engine
New screen transition system
Recreation of the player core code
Coyote time jump
Seesaw platform
Checkpoints
Buttons / switches / pressure plates (for opening doors, moving platforms, triggering traps, setting off explosives etc.)
Teleporters (doors, pipes)
Lifts (moving platforms which are triggered when player enters and stops at end points)
Elevator (with door that opens and closes)
Keys (for unlocking closed doors etc.)
Falling blocks/platforms (after standing on them)
Crushers / Crushing blocks (2 types: 1: Falls/crushes when player is below, then resets/pulls back, 2: in a timed loop like pistons).
Spike traps (timed loop or triggered after standing on them).
Falling stones (falls on player when player is below - does not reset).
Lava / geysers (springs out from ground).
Melee attack (with sword)
Weather (Rain with flashes, Snow, Falling Leaves)
Boat on water
New Waterfall
Frog enemy that uses his tongue
Ground Slide

[ADDED]

[**]

Ground Dash

[ADDED]

[**]

Air Dash
New Skill: Bow & Arrow
Ropes (static and swing)
Grappling Hook (like Just Cause)
Path-based camera movement
Grab the ceiling (only horizontal movement)
When shooting, have a push back
Wall climbing

[ADDED]

[**]

Simple light system (for dark environments)
Rotating spines
Boss (rocky monster)
Lava
Fire that jumps off the lava
3 slots save and load system
Wind zone (that causes the player to be propelled upwards)
Raycasting for the other enemies
Fish (normal and following)
Game over screen
Highscores
NPC (can talk with the player and the player can answer)
Shop (on screen)
Secret areas that reveal when touching (layer fade)
Cave level (with light)
New fully made level with uneven terrain (like Super Mario W2 Yoshi's Island)
Treasure chests/boxes (break with sword. With coins)

[ADDED]

[**]

Magnet coins (there will be two types: normal / static and magnetic, same object)

[ADDED]

[**]

Quicksand
Switch Block (that inverts some blocks to coins)
Timer (It will be possible to disable this, in the obj_game_control)
Carry items in the player's hand
Jet pack for the player (with fuel limit)
Brick blocks that breaks (like Mario, with little life does not break)
Cannon that fire bullets
Player ground pound state
Vineyards (that grow from blocks)
Yoshi-like object that can mount
Android: Virtual buttons on screen (to move the player, jump, interactions...)
Map of levels (unlockable ones, like Super Mario World)
Pause Menu with buttons

[ADDED] Those are features that will be present in the next update.

[**] These marked in purple will be refactored in a future update.

You can also suggest something, just comment on the page, I will decide if it will be possible to add.
v1.3.1 Is released!
Check
release notes
.
Trailer
(old)
​
Last edited: