version 2.2.2
Demo
|
Download
|
Docs
/
Github
Update - v 2.2.0

About
Fauxton 3D is a powerful and efficient sprite-stacking engine that not only makes 3D games possible in Game Maker but also INSANELY easy! There are many hurdles when attempting to do 3D rendering in Game Maker and it can be daunting trying to learn it all, but with Fauxton, I have tried to design it so that it is efficient, quick, and easy. So easy that a complete beginner to 3D can have a scene up and running in no time at all!

Testimonials
​
You made something super cool and inspiring! I've never been able to render a 3d scene so easily in gamemaker before
-

Rologfos



This is simply amazing man, the best asset of this kind for gms anywhere that i can find, and ive looked for a lot of 2.5d and sprite stacking solutions
-

Wurmhole



it's amazing, much easier to create rooms and objects as you want and add shaders
-

Baiter Yamato

What is sprite-stacking?
From an article by Avis:
Sprite-stacking is where a voxel model is sliced into many horizontal slices, these slices are then drawn in GameMaker from the bottom to the top, with each one slightly higher. This gives the effect of a sort of 3d model in a purely 2d game

What can it do?
This engine includes plenty of functionality fully compatible with most things you might do with a standard Game Maker 2D game. Some of the things you can do with the downloadable & playable demo include Volumetric fog, Object particle effects, Unlimited static buffers, and more! Once you initiate the engine using the function FAUXTON_START(), getting a model into a scene takes only 1 line of code fauxton_model_create()
and that's it!! I tried to design this project for beginners and artists, so you can focus on your games, not learning about buffers!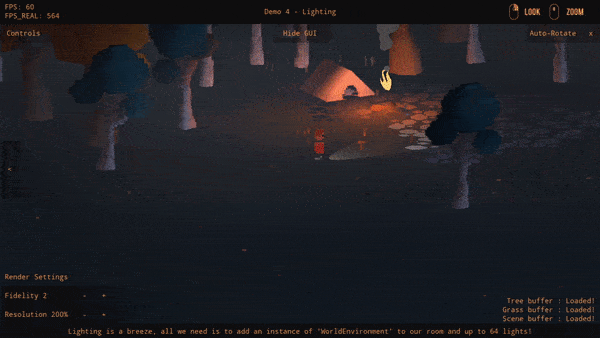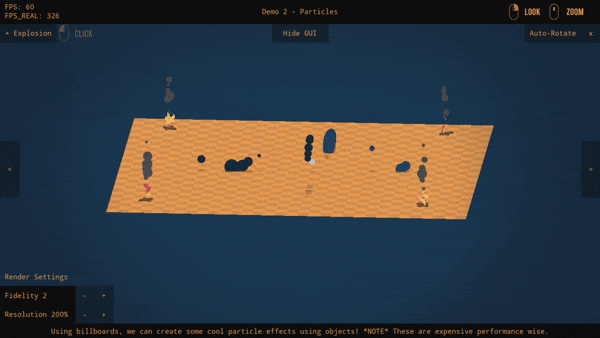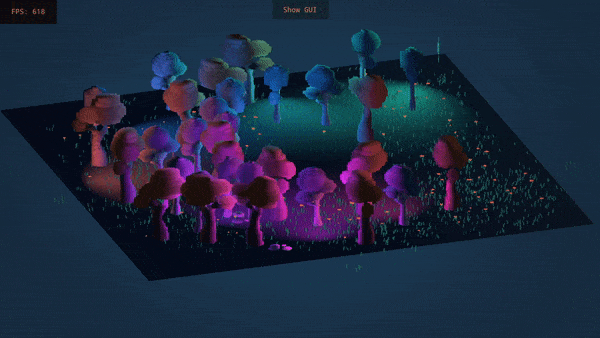 You can read more about the functionality, as well as a brief tutorial, in the Documentation!
Follow me on Twitter to keep up-to-date on progress!
​
Code:
V 2.2.2 Patch
[FIXED] Scaling issues when adding scaled models to static buffers
Code:
V 2.2.1 Patch
[FIXED] Camera control right-stick axes were flipped (vertical was Angle, horizontal was Pitch).
Code:
V 2.2.0 Update
[ADDED] World Environment Node 
[ADDED] Point light node 
[ADDED] Spot light node 
[ADDED] fauxton_buffer_set_uniform_script(buffer_name_or_id, uniform_control_script) 
[MODIFIED] draw_sprite_3d OPTIONAL parameter 'enable_lighting' 
[MODIFIED] draw_sprite_3d_ext OPTIONAL parameter 'enable_lighting' 
[FIXED] fauxton_buffer_set (Would return an error)
Code:
V 2.1.1 Update
- [FIXED] - 'missing reference id' message for the Camera and RenderPipeline object nodes
Code:
V 2.1.0 Update
- [ADDED] - fauxton_model_texcube, fauxton_model_texcube_destroy, fauxton_model_create_ext
- [ADDED] - Full demo with examples of Static buffers, Particles, Volumetric Fog, and Player movement/animation
- [FIXED] - Bug fixes here and there, syntax highlighting fixed
- [ADDED] - HTML5 and mobile camera rotation support to Camera
Code:
V 2.0.0 Update
- [ADDED] - Completely new workflow,
- [ADDED] - Static buffers that models can be added to
​
Last edited: