Hi everyone!
I'm pleased to share with you the First Chapter of
Dreamnesthesia
, a game I have been working on with a group of friends during the last years on our spare time.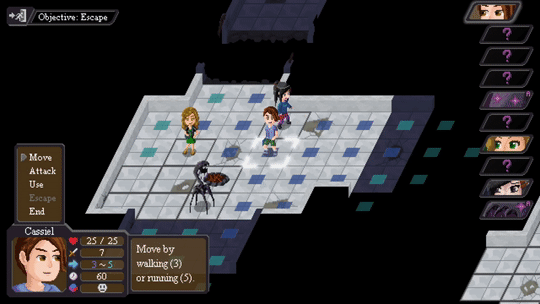 Dreamnesthesia
is a tactical RPG game with a strong narrative that unfolds on the realm of dreams and nightmares. You guide Avíla and her friends through a world where they will have to explore and face their own psychological problems, embodied as demons they will have to fight against.
Stuff you'll find in
Dreamnesthesia
:
Turn-based tactical RPG style fights.
Oneiric pixel art environments.
Exploration driven by fog of war mechanics.
A narrative that unfolds based on the characters psychological problems.
An atmospheric and immersive soundtrack.
This Demo includes the first chapter of the story, and our purpose is to make our game known, get feedback from the players, and ideally use it to get funding, so that we can develop the next chapters. It would be great if you could give us your advice and opinions about the game and the project, so that we can carry it out in the best possible way.
The Demo takes around 30 minutes to complete. We have only exported to Windows so far, because we haven't been able to export it to Mac or Linux yet (we don't have those operating systems).
Here is the link to the download page:
https://merge-branch-games.itch.io/dreamnesthesia
We also have an instagram account, but mainly for broadcasting:
Instagram
If you want more info about the game you can ask, and I will write a more detailed description.
Thank you very much. Every suggestion and criticism is welcome!