A small number of you may remember some time ago there was a Doom wad loader on the marketplace. Well that was my project, and it had a lot of issues at the time. Issues that ended up requiring me to pull it from the marketplace.
Well I've been one hecking busy guy over the last couple of years but now that my game is nearing completion I figured that I would take some of my free time and put it back into that wad loader, rebrand it, improve a lot of things about it, and get it working in GMS2. So I'd like to use this thread as a devlog on the system, which I hope to get back onto the marketplace when it's ready.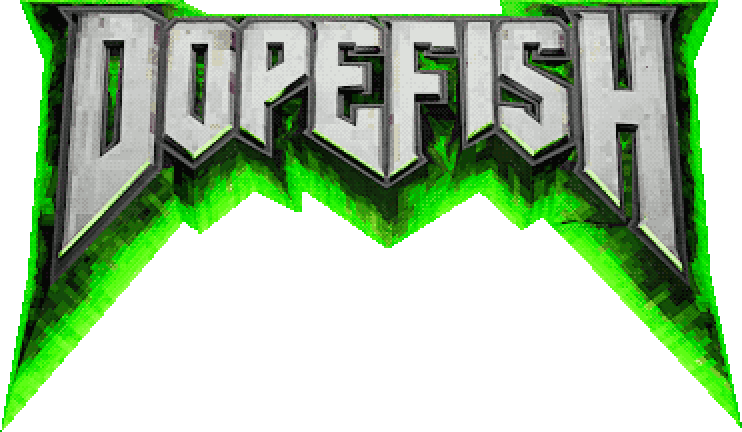 So here it is, DopeFish (formerly Deimos Engine), a 3D map loader, complete with a basic FPS controller and some rudimentary collisions that reads map geometry, textures, sprites and map logic straight from a wad file, the game data format of classic games like Doom, Heretic, Hexen, Chex Quest, Strife, and so on.
In the past few days I've managed to get the system working in GMS2, reorganized much of my messy old code, and rebranded it to avoid any potential copyright issues, and implemented a few key fixes, one of which being the detection and proper loading of a Hexen formatted map.
In a wad, there are basically two map formats, there's the classic Doom format, and the Hexen format. When the game Hexen was released they changed the format to allow for extra scripting to be assigned to any thing you add to a map. This addition shifted bits around in the wad, and made it so my original loading algorithm completely failed. This is no longer an issue as you can see:
​
You'll also probably notice in some of these screenshots, like the one above, that the game looks low resolution with a dithered look, this is due to me using one of my new assets in development that can be used to emulate a software rendered look, similar to how Doom originally looked back in 1993. That will not be a part of this asset, so don't worry if that's not your jam.
Anyways, there is still a lot of work left to do on this, namely I need to get the BSP node renderer working for optimizations sake. That Hexen map, without any form of optimization is running at a measly 13 fps.
Second, I need to create a few databases for every map thing that exists for Doom, Doom 2, Final Doom, Heretic, Hexen, and Strife so that it will be more fully compatible with any kind of map you make. This will allow the engine to properly load objects into the map and assign them the correct sprites and stats.
To Do For Release
Create database of all things (Doom, Doom 2, Final Doom, Heretic, Hexen, and Strife)
Implement Node tree optimizations
Add overrides for Things, Textures, and Sprites ( replace any texture in the map with your own, good for HD texture swaps, or replace any enemy with whichever object you choose )
Improve first person controller physics/collision
Implement a backend to handle data management and feedback
Possible Future Features:
3D floors (rooms over rooms)
Sloped floors/ceilings
Geometry Normals
Dynamic Lighting/Shadows
Anywhoo, that's enough babbling for now. I'd love some feedback or suggestions if you guys have any.
Last edited: