Hey guys!
So I've been working on this game for some time now.. well, over 2 years actually. I figured I'd start some kind of devlog and show what I'm doing on here. Updates will likely be quite irregular, though!
It's out on
Steam Early Access
if you want to take a closer look.
Anyway, here's my game:
Game Summary
You play as one of 4 heroes...
The Templar
A strong and noble warrior, the Templar has great skill with her sword and shield, and may summon the holy powers of the Light, using Physical, Lightning, Fire, and Holy damage. While a highly defensive class, having a lot of resistances and absorption and healing skills, she can still deal a ton of damage.
The Berserker
A killing machine and brute, gets up close to punch his foes in the face. Enhances his blows with the powers of his Dragonkin and Frostborn ancestors, using Physical, Fire, Frost, and even Lightning damage. The berserker is primarily an offensive class, but has a high health regeneration and mobility, allowing for high survivability.
The Warlock
A powerful magic caster, using the power of death itself to deal Frost, Poison, Fire, and Shadow damage to his foes. May also summon foul beasts to do his bidding. While a very strong offensive class, he has few defenses except the ability to Teleport and slow down his foes, and as such must always keep his range.
The Warden
A protector of nature, uses her bow and nature magic to slay her foes. She may call upon great storms, and even the forest itself, to deal Physical, Lightning, Frost, and Poison damage. She may also call upon various beasts to aid her in combat. Much like the Warlock, she is also highly offensive and must keep at range. She can slow, trap, and tumble away from her foes to keep her distance.
Each class (Hero) also has 4 different skill trees to spend skill points in to acquire new skills & perks!
..And as these Heroes, you go through a great trial, re-living past conquests of the Heroes of Old. These Heroes of Old fought and destroyed all known evil long ago, so while the world is at peace, champions are selected to re-live it all to honor them. This is done via the Chronicon, which is a great magical machine, and also the "town" hub of the game.
Creepy dungeons..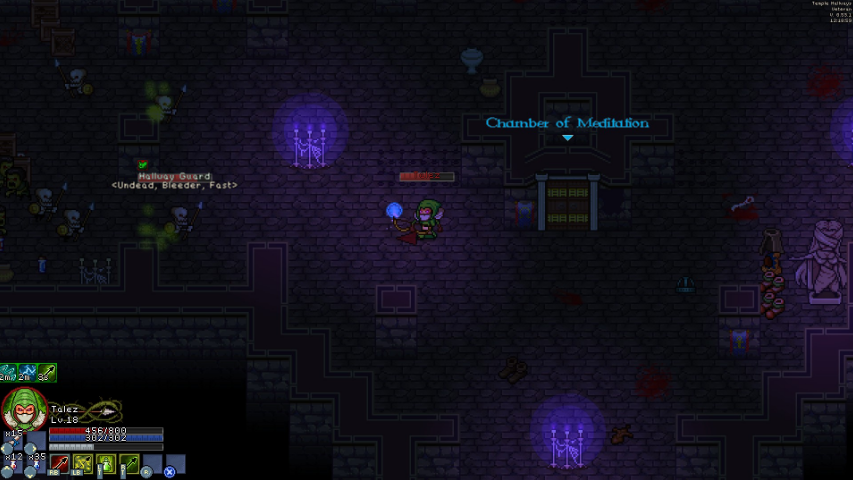 The Chronicon is connected to the souls and memories of the Heroes of Old, and uses fragments of these to create a rough estimate of the battles they fought, hence the entire game is procedurally generated (zones, monster/champions, loot, etc).
There are currently 3 worlds, or Acts as I call them, and I am currently working on the 4th. The final game will feature 5 Acts. Each Act features its own unique setting, 4 large boss fights, around 15 major areas, and many optional areas.
Such action!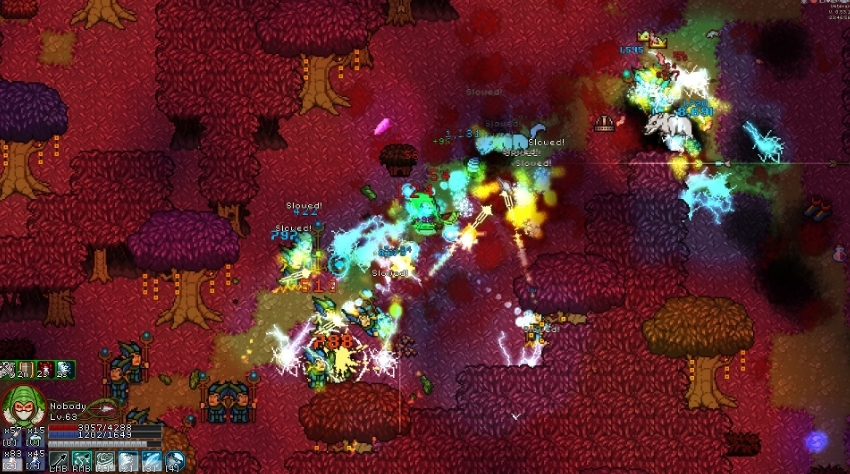 Inside these areas you'll also find Crystals (the pink thing seen near top center above), which is used as a currency. These Crystals are actually memory fragments, which the people in The Chronicon will trade for equipment, goods, and services. (The lore on this is that The Crystals are used to fuel and put together new memories into new areas inside the Chronicon.)
Once you have beaten the current content, there is also an endless dungeon available, which will get progressively more difficult for each floor you clear. Every third floor features a small boss fight and a large chest full of epic loot!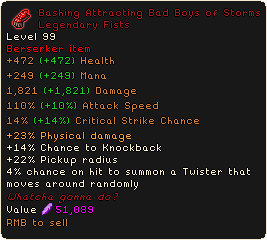 Not to mention that the entire game is
filled
with loot! Chests, breakable objects, bosses, and random Champion enemies will spew loot at you like there's no tomorrow! Over 500 different items of 6 different rarities are currently in the game, along with special item sets which will grant additional powers once collected!
Open it!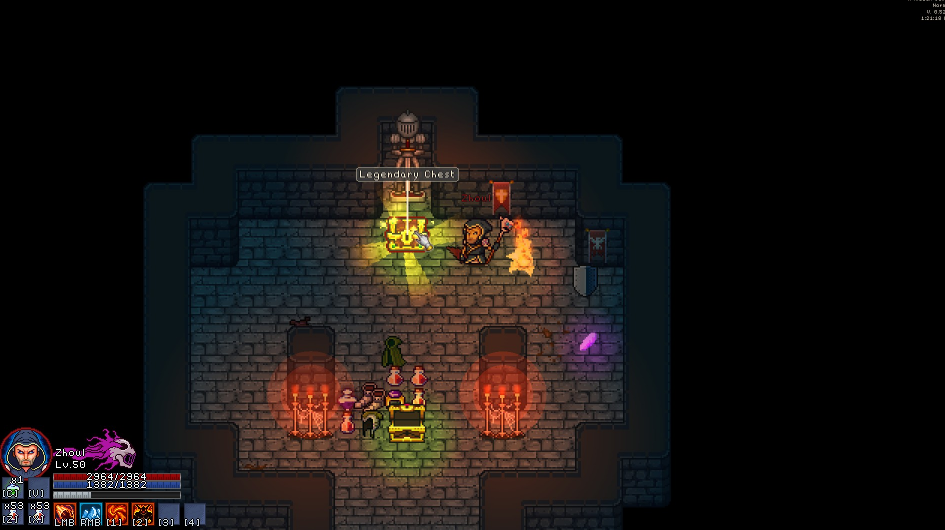 The game also features local multiplayer for up to 4 players!
Currently working on..
I am currently working on the 4th Act, and the revamped (and soon massive) skill trees! I am also working on a few new mechanics, such as being able to "reforge" equipment by changing their stats.
I will post updates on the skills as soon as the icons are done!
I'll keep you posted
Last edited by a moderator: