Can no longer save, change, then re-apply camera view and projection matrix.
If I try to,
1: Save my current 3D camera matrices.
2: Set my camera to use new 2D matrices for temporary drawing.
3: Reset back to the saved (3D matrices.
The 3D camera seems to be upside down. Before the update it would reset the camera perfectly.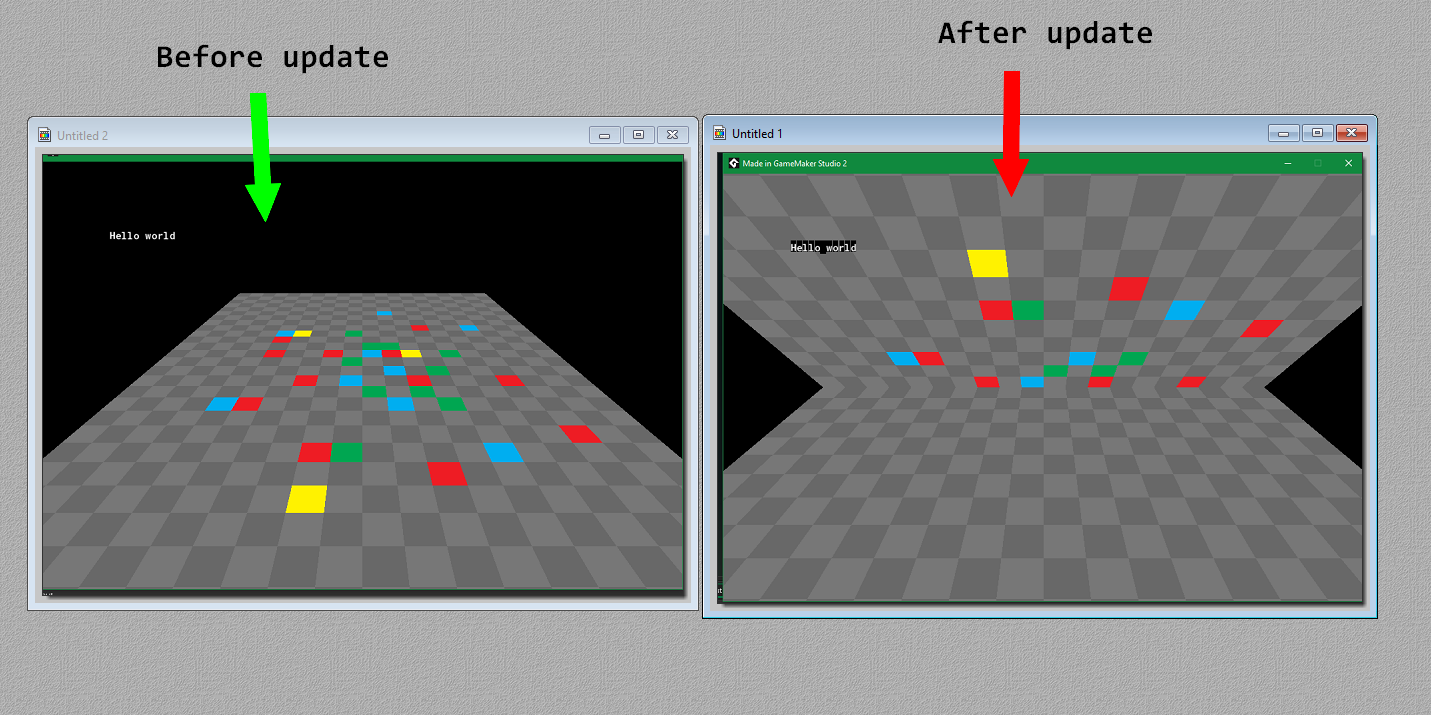 Code:
/// @description

//
gpu_set_ztestenable(true);
gpu_set_zwriteenable(true);

// Apply 3d mats
var _x = room_width/2;
var _y = room_height/2;
var _view = matrix_build_lookat(_x-480, _y, -240, _x, _y, 0, 0, 0, -1);
var _proj = matrix_build_projection_perspective_fov(-60, -view_wport[view_current]/view_hport[view_current], 1.0, 32000.0);
camera_set_view_mat(view_camera[view_current], _view);
camera_set_proj_mat(view_camera[view_current], _proj);
camera_apply(view_camera[view_current]);

// Draw floor 1
draw_sprite(spr_floor1, 1, room_width/2, room_height/2);

// Save mats
var _save_view = camera_get_view_mat(view_camera[view_current]);
var _save_proj = camera_get_proj_mat(view_camera[view_current]);

// Apply 2d "GUI" mats
var _x = view_wport[view_current]/2;
var _y = view_hport[view_current]/2;
var _view = matrix_build_lookat(_x, _y, -16000, _x, _y, 0, 0, 1, 0);
var _proj = matrix_build_projection_ortho(view_wport[view_current], view_hport[view_current], 1.0, 32000.0);
camera_set_view_mat(view_camera[view_current], _view);
camera_set_proj_mat(view_camera[view_current], _proj);
camera_apply(view_camera[view_current]);

// Draw text
draw_text(100, 100, "Hello world");

// Reset to saved mats
camera_set_view_mat(view_camera[view_current], _save_view);
camera_set_proj_mat(view_camera[view_current], _save_proj);
camera_apply(view_camera[view_current]);

// If you uncomment the section below (manually setting up the 3d mats again) everything works.
// I used to be able to just apply the saved mats.


// Apply 3d mats
gpu_set_ztestenable(true);
gpu_set_zwriteenable(true);
var _x = room_width/2;
var _y = room_height/2;
var _view = matrix_build_lookat(_x-480, _y, -240, _x, _y, 0, 0, 0, -1);
var _proj = matrix_build_projection_perspective_fov(-60, -view_wport[view_current]/view_hport[view_current], 1.0, 32000.0);
camera_set_view_mat(view_camera[view_current], _view);
camera_set_proj_mat(view_camera[view_current], _proj);
camera_apply(view_camera[view_current]);


// Draw floor 2
draw_sprite(spr_floor2, 1, room_width/2, room_height/2);
Example:
http://www.filedropper.com/cammatrixbroke