Hi, everyone!
Let me show you my new game in progress, Archtower!
This is Action/RPG with arcade and roguelite elements.
PLOT
There is a great Tower in the world of the game. It is always been there. Primitive community of people, organized in family clans, are trying to get into it. You are playing for one of those families. Who knows what will next offspring of your clan find there, a fame, some treasures, or just a painful death.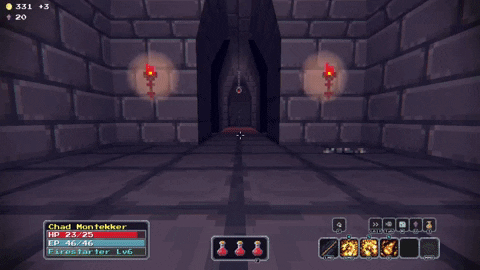 BASE CLASSES
Every time you die you pick a new character from roster with randomly choosen classes. Here are 4 starter classes (2 more are unlockable, and more will come):
FIGHTER
Uses swords mostly, fast and strong. Has devastative attacks. If you need better defence he can wear shields. Resource - Power, replenishes when you defeat your enemies.
Skills:
Passive
- 5% faster attack speed.
Charge
- fast movement forward, can be used to run away, ethier can be paired with a sword attack for offence, that will cost you PP (Power Points).
Swifty Strikes
- experienced Fighters can use this move to unleash multi hit combo for burst damage on heads of their enemies.
VAGABOND
Dexterious one, can be trained to master range weapons, or be more agressive in close combat. Resource - Stamina, replenishes fast, but limited pool size.
Skills:
Passive
- 5% more accuracy.
Throwing Rock
- fast and powerful ranged attack, it can headshot humanoids with increased damage, even player itself, be careful, but if you won't hit humanoid in the head, it will deal little damage if not upgraged.
Act of Survival
- experienced Vagabonds know how to survive under pressure, letting you ignore weapon damage for short period, use this to buy you some time to escape or outdamage your opponents.
FIRESTARTER
Some scholars want to engage in combat as much as fighters do, you can train them to be more defensive melting your enemies with burnings or just to be litteraly an explosive ones. Resource - Energy, replenishes slowly in battle, and x6 outside of combat.
Skills:
Passive
- 5% more energy damage.
Flaming Vial
- ranged damage over time attack, enemies burn for a few ticks, can be upraded to an explosive charge.
Fireball
- strong slow-moving single-target projectile skill for experienced Firestarters to bring havoc upon your enemies.
POISONER
Cunning one, master of poisons and toxins, most of his enemies will regret it over time. Resource - Stamina, replenishes fast, but limited pool size.
Skills:
Passive
- 15% poison resistance, reduces duration for Poisons and Toxins that affect a player.
Poison Vial
- ranged damage over time attack, enemies slowly loss a lot of their health points.
Toxin Vial
- ranged debilitating attack for experienced Poisoners, will inflict low damage over time and will make your enemies weaker.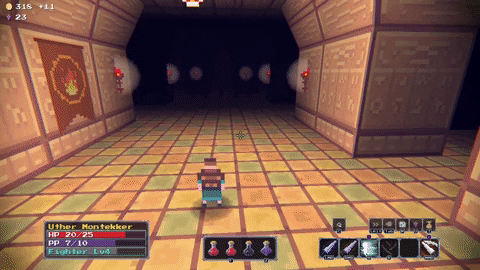 CONTROLS
Base:
WASD + mouse - movement;
Space - jump;
LMB - primary weapon attack;
RMB - extraslot action;
Q - class skill 1;
R - class skill 2;
Shift - crystal slot skill;
E - interact/pick up;
C - weapon swap;
I - open inventory;
F - heal potion;
Z - drink resource potion (if talanted);
Tab - switch first/third-person mode;
M - minimap;
Alt - walk slowly;
Inventory:
LMB - drag items;
RMB - use/equip;
Shift - compare equip with worn items, see second weapon stats;
Shift+RMB - equip to extra slot;
Z - drop from inventary;
Shift+Z - drop one item;
Shop:
RMB - buy/sell;
Shift+RMB - buy/sell one item;
Extra:
PageUp - turn on/off FPS count;
Shift + Num+ - increase scale;
Shift + Num- - decrease scale;
Scrolling - change size of minimap (if showed);
Cntrl+Scrolling - change transparacy of minimap;
Fixes:
Cntrl+Alt+F1 - turn on/off low-rez fix, use it if you turned low-rez settings on and GUI draws incorrectly (off screen, either too small in left upper corner);
Cntrl+Alt+F2 - turn on/off fast fps fix, use it if game runs with double speed to reduce it to half speed, v-sync must be turned on to have any effect.
Xbox 360 controller is supported (mostly)
SCREENSHOTS
LINKS
Archtower on itch.io
Twitter
Patreon

Last edited: