Name: Animal Quest - Forest Survival
Genre: Action Strategy Adventure
Platform: Windows PC and HTML5
Current State: Beta Version 0.970 [Updated]
Release Target Date: October 2020
Publisher: Alivesoft
Game Design: Bill Dedes
Download latest Windows executable (zipped)
Play the HTML5 demo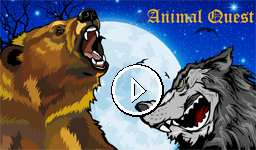 Hi there fellow game makers. I released Animal Quest as a shareware DOS game in 1991. It was a simple turn-based game with animals hunting or be hunted but surprisingly it became popular and it was quickly picked up by low cost retail publishers and sold through stores like Target and KMart in the US. You can see the old version by searching Animal Quest Game in YouTube.
Development of the new version started in 2017 using GMS 1.4.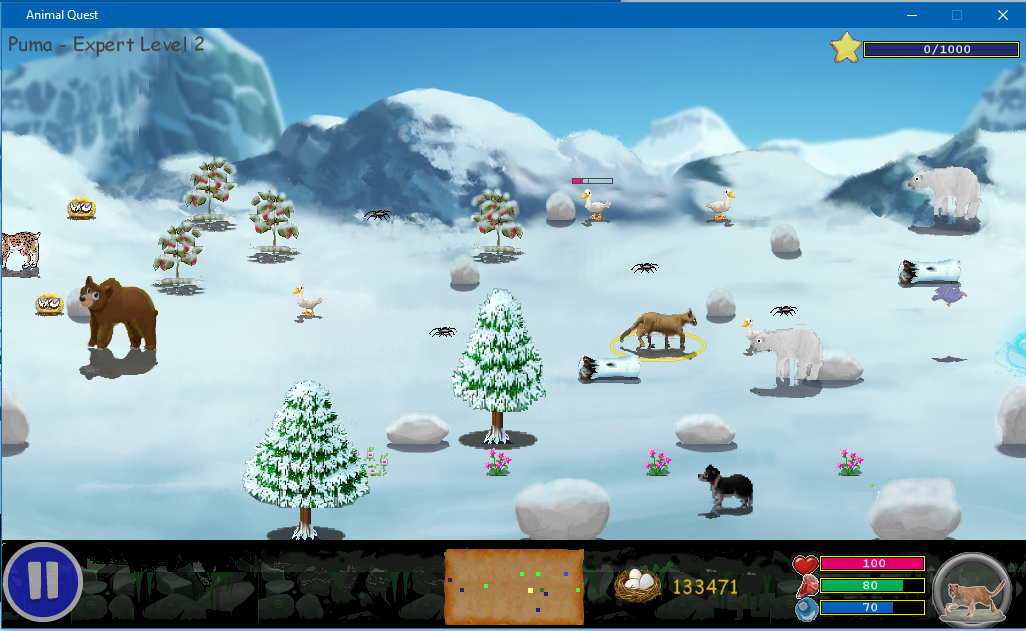 Design elements of the new Animal Quest:
The new version is similar in spirit with the original game but it has a ton of improvements and new design elements.
Hunt your prey, evade your predators, outsmart your competitors.
Monitor your Health, food and hydration stats and act accordingly.
Discover and manipulate power-ups when in trouble.
A wild nature survival game with strong simulation and RPG characteristics.
A bird's eye view is used. A rich world with over 100 different animals and plants.
The core mechanics of the game is done. It just needs an art/animation overhaul with the final graphics and
several map Levels. Most levels are auto-generated but the hand-crafted ones are always best.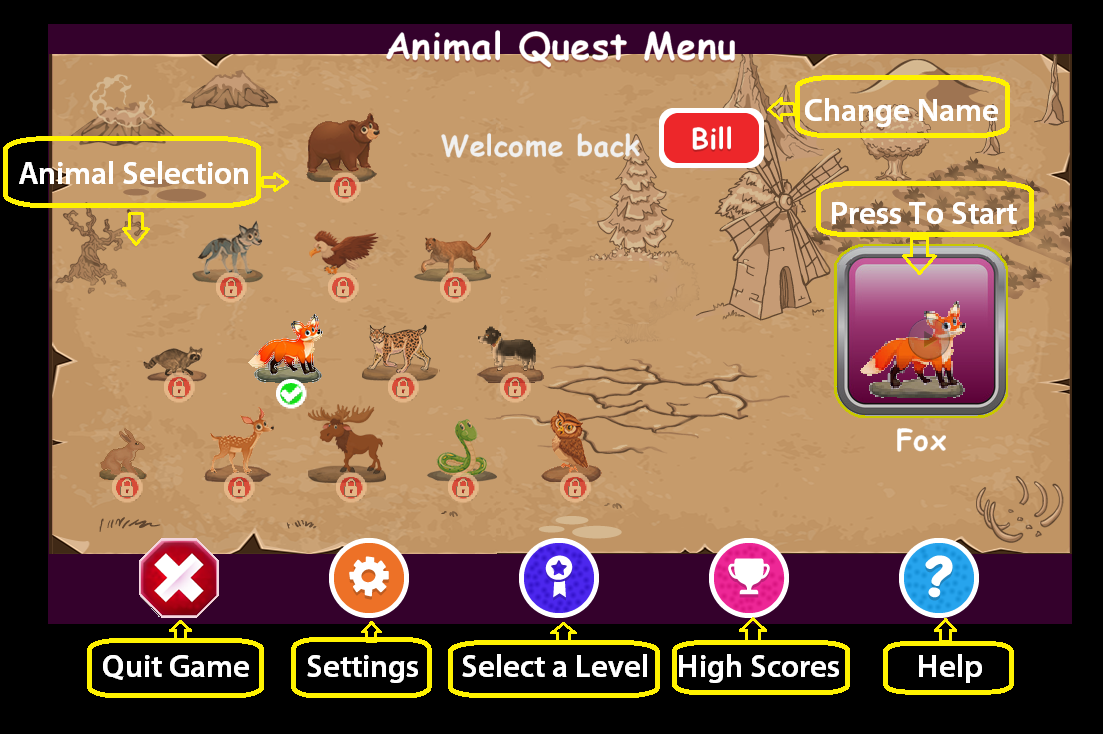 Animal Selection:
You start out with an animal selection:
Select one of 13 animals. Each one has unique mechanics, strength and weaknesses just as in real life.
The animals populate a world that is diverse and unpredictable.
Levels:
Several levels are included.
Each time you play the level geography, the animal types, the animal positions will be different.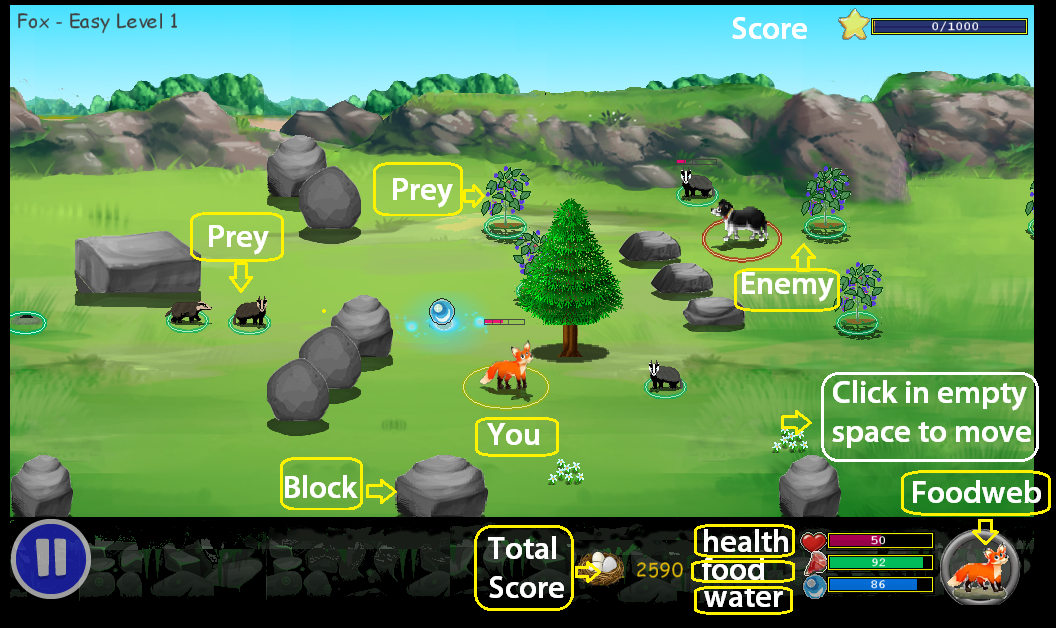 Simple interface:
Click on empty space to go there.
Click on an animal to attack it.
Click on an item, such as a power-up to collect it. Once collected it goes into inventory. Then just click on it to use it.
Click on the exit sign to exit the level etc…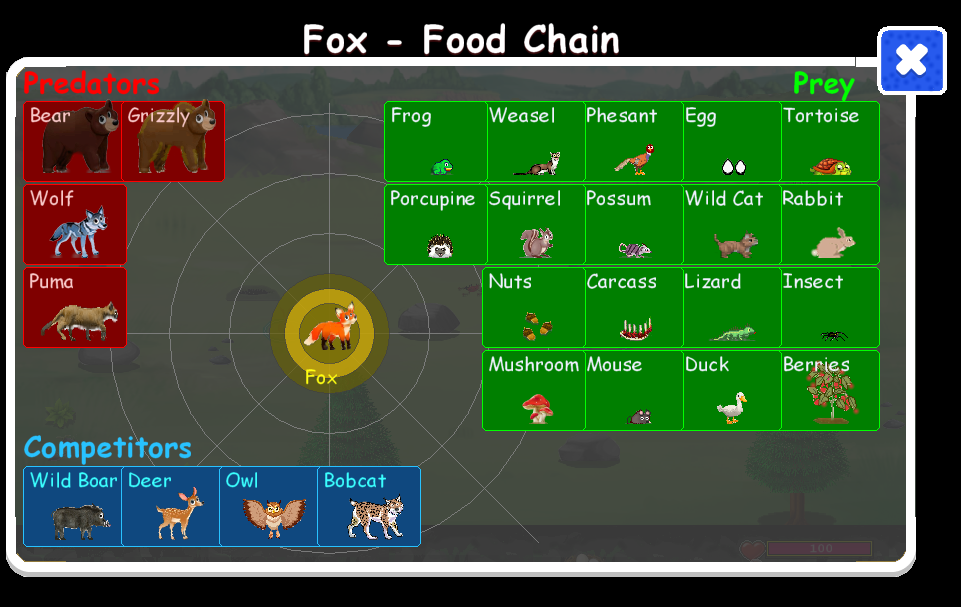 Food-web

Scalability:
You can select three modes: Easy, Normal and Expert to adapt to casual or hard core gaming.
The Game speed is adjustable, there are Normal and Fast speed options.
Auto-play mode:
There is an optional experimental auto-play (idle) mode, let's see how this evolves. When auto-play is on and If you do not click the mouse for about 15 seconds the selected animal will try to avoid enemies and chase prey on its own, of course you may intervene at any time.
I would love to get some feed-back on this game.
Download Windows executable (Zipped)
Play Animal Quest broweser HTML5 demo
.
Also play through FaceBook Animal Quest page (Don't forget to press Like to keep updated)
thanks
~Bill at Alivesoft
Last edited: