Advanced platform for for many purposes! With this
platform engine
, you will be able to make your own game without changing almost anything and at the same time having control of everything! Everything is very easy to customize, just change numbers or sprites and you have made a game!
[For Game Maker Studio 2]
GALLERY: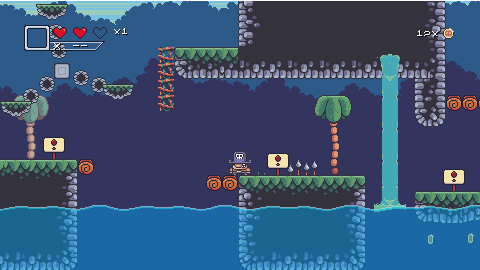 FEATURES:
Skills System: Includes 4 types of skills that can be easily modified, added or removed. (Normal, Bomber, Shooter, Shuriken). Using enumerators for the system.

Normal: The normal state of the player, you can put a sword in your hand to deal damage if you want.
Bomber: You have the power to drop bombs to kill and destroy everything in front of you!
Shooter: Shoot with your weapon, it has spare ammo and reload time.
Shuriken: Like a ninja!, pull items for yourself with this skill.

State Machine: The player changes action in a simple way using enumerators.
Jump: You can jump and control the jump height, can be customized.
Multi Jump: Double, Triple or infinite jump! You choose.
Pixel Perfect Camera: Don't stress anymore trying to make the game look good on all screens, as this engine does everything for you! Choose between smooth and fixed camera. You can change the focus of the camera just by setting the variable for any object.
Camera Shake: The camera shakes when taking damage or anything you want.
Camera Focus: Focus the camera on a specific area of the room.
Pixel Perfect Collisions System: Just a solid and stretchable object that the engine does the rest of, nothing to put block by block and end the memory, anything can be used to collide.
One Way Platform: Jump underneath the platforms.
Water Shader with Physics: Any sprite can be used as water that the shader does the rest, just make simple adjustments. (You can control the brightness, saturation, contrast and color of the water!)
Swim: The player can swim and walk underwater.
Optimized: Objects out of camera view are not drawn and you get performance on Android platform. (Note: Water shader is a bit heavy on Android).
Menu with Volume Sliders: You can change the volume of the music and sound effects.
Parallax Background: Do you know that feeling of depth? That's right.
Dialog Boxes: As easy as creating a variable, I'm talking about just writing the text directly on the instance in the room editor using one function! The text fits perfectly without extra words appearing at the end, it is possible to skip the text animation.
Slopes: You can create any type of uneven terrain that the collision system does its job. (There is a limitation related to the angle and distance of the climb).
Terrain raycasting: The object you want can rotate on the ground.
Pushable Box: It can be pushed and rotates on the ground!
Wall Jump: Climb and jump walls as you slide.
Wall Slide: Slowly slide down any wall.
Wall Climb: Climb ladders and grab onto railings and walk freely, creating a much more interesting experience!
Moving Platforms: Both horizontal and vertical, there are no collision problems, they work perfectly with pixels.
Directional Platforms: You can change the number of platforms, circles, distance, distance between circles and speed. Isn't that cool?
Silhouette Flash Shader: Perfect for demonstrating damage to an enemy when hit.
Trail effect: Leave the trail of any sprite to create a Metroidvania like effect.
Coins: Collect coins that can be used for something.
Lives and Health System: Lose health when hit the player, lose lives if you have no health.
Invulnerability System: Player and enemies become invulnerable for a time when hit them.
Power ups: Comes with two types of power ups, bombs and lives, you can add as many as you want without having to duplicate objects, just copy and paste one line of code!
Spring: Jump, hold up to jump higher!
Flexible Keyboard Map: All key events are stored in variables to be able to map in a simple way.
Music Player: Play a certain song at each level.
Save and Load System: No loss of progress, save the score, lives and anything else in a simple way!
Pause: You can pause the entire game at any time, and all sounds also pause!
Game Over: If you lose all lives, you will be returned to the menu.
Game Transitions: With a shader, you can create any transition between rooms however you want. Easy customizable.
Flag: Take it and go to the next level.
Damage Object: Make any thorn damage the player.
Custom Font: Includes a custom font that can be replaced.
Particles: Various particles such as smoke when walking, slipping and explosions, water bubbles and gun fire.
Debugger: Includes X-ray, FPS, Real FPS, bounding box and others.
Audio Groups: All music and effects are organized into audio groups.
6 Enemies (with AI):

Pterodactyl: Move smoothly left and right while looking at the player, step on top to kill him.
Fish: He stays in the water, just go over that he jumps high in random positions, you can kill with bombs.
Slug: While walking, if he realizes that the player is in front of it, he starts facing and start throwing his disgusting slime towards the player! If you step on top, it curls up in the shell and it is possible to kick it and if it is stopped for a while, it will return to normal. it doesn't take damage from the shell.
Spiky: Walk left and right, sometimes jump and you can only kill with bombs.
Dinosaur: Walk left and right, stepping on top will flatten he out.
Carnivorous Plant: Look in your direction, if you get close it switch to attack position.

YYC Compatible.
Compatible with all platforms: Desktop, Mobile, Console and HTML 5.
All codes are commented by parts and are very easy to handle.
Variables names and general code with consistency.
Includes many sound effects and 8-bit music.
All sprites, audio and codes can be used in commercial games, BUT, you cannot resell this source code itself even if modified. (See EULA).
Credit is appreciated, but not mandatory. (Foxy Of Jungle )
Everything is in a .yyz file, just open it with Game Maker Studio 2. (File > Open Project)
All support will be given to those who buy the content, more updates will come. (Read EULA on itch.io).
This is a newly launched project, so new things will come in the future.
Thank you for getting here.
BUY IT ON ITCH.IO
(WITH FREE DEMO)
| Foxy Of Jungle (Get more amazing assets!)
BUY IT ON YOYOGAMES MARKETPLACE
v1.2 Is released!
Check
release notes
.
Last edited: